Images
Product Video
Bowflex TreadClimber TC5
Details
https://www.bowflex.com/products/tc5/100215.html
Promotions
Buy More Save More!
Details

For a limited time, enter coupon code

SIMPLYSAVE

at checkout to get:
$100 Off and Free Shipping - when you spend $1,100 - $1,499
$150 Off and Free Shipping - when you spend $1,500 - $1,999
$250 Off and Free Shipping - when you spend $2,000 and up
Discount qualifying amount calculated solely using merchandise price. All service fees, taxes or other miscellaneous costs (e.g., in-home assembly, Bowflex Protection plans, shipping, and sales tax) are excluded from the qualifying amount calculation.
Discount applied to pre-tax price of merchandise. Discount not applied to in-home assembly, Bowflex Protection plans, sales tax, and other costs or fees.
Offers only valid within the 48 contiguous states of the continental U.S. We regret we cannot ship to P.O. Box or international destinations. Offers not available with any other offers and are subject to availability and may change at any time. Prices are subject to change. Shipping discount applies to standard shipping option only. Offers are valid once to a customer and excludes previously placed orders. Offers are not valid at retail stores or outlets. Offers valid for a limited time only.
Additional Information
Last Chance Sale
Limited Quantities Available! Free Standard Shipping!
Product Overview
Motor-less design (No electricity needed! Your force controls the speed.)
Workout tracking and speed display
Challenging, low impact workouts
Ergonomic console designed for easy access
Space efficient design
300 lb. weight capacity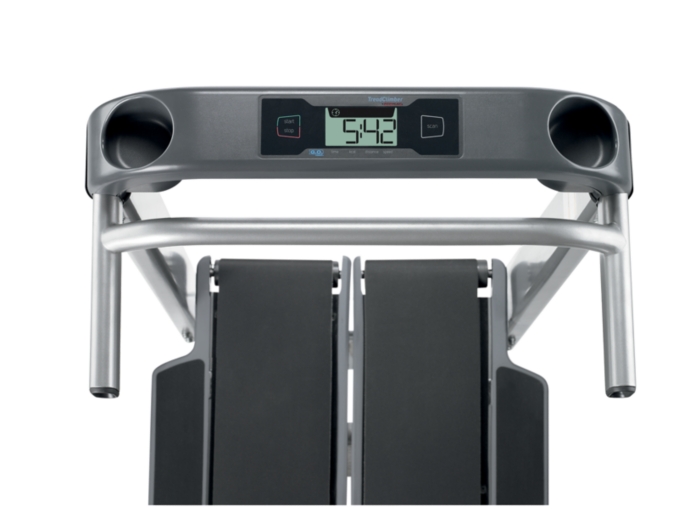 Product Features
Ergonomic console

Provides easy access to water bottles, magazines, etc.

Compact and motorless

Most compact and convenient TreadClimber® design that fits easily in any home

LCD display screen

for workout tracking and max 4.5 mph (7.2 kph) maximum readout speed

4 electronic functions

Speed, Distance, Time, and Calories

Dimensions

43.1" L x 27" W x 52.8" H (109 x 69 x 134 cm)

Machine weight

163 lbs (74 kg)

Maximum capacity

300 lbs (136 kg)

Warranty

1 year
You Might Also Like
10293

Bowflex Cardio Machine Mat

Description

This professional-quality mat is designed to fit under your TreadClimber or Max Trainer cardio machine, providing added stability and giving your workout area a clean, finished look while reducing wear on your carpet, tile or wood floor. 4'9" L x 2'11" W (145 L x 89 W cm).

Fits TreadClimber models: TC200, TC100, TC20, TC10 and TC5 machines.
Fits Max Trainer models: M3, M5, M6, M7, M8, and Max Total machines.

93067

Description

Recommended for Bowflex® TreadClimber® machine routine maintenance and Treadmill maintenance. Easy to use, prolongs belt life and helps eliminate squeaking. Refer to your Owner's Manual for routine maintenance.

100131

Bowflex SelectTech 552 Dumbbells

Description

These adjustable dumbbells replace 15 sets of weights. Weights adjust from 5 to 52.5 lbs in 2.5 lb increments up to the first 25 lbs. Easy-to-use selection dials for adjusting weights. They are sold as a pair. Easily switch from one exercise to next and with the turn of a dial you can change your resistance, enabling you to gradually increase your strength. Versatile workout for your legs, back, chest, abs, shoulders and arms. Compatible with the free Bowflex SelectTech® training App for iOS and Android.