"engages the upper body more than an elliptical."
- SGI Weekly Intelligence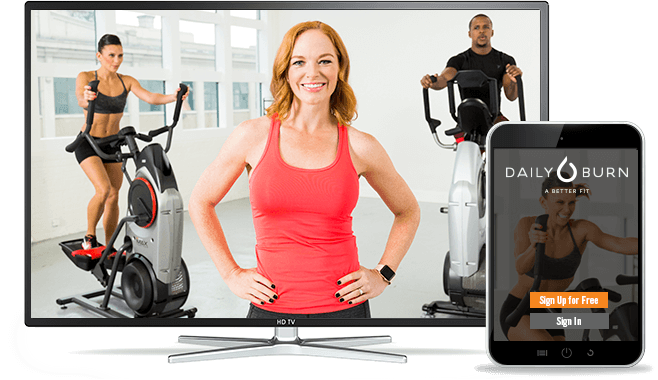 Free Streaming Workouts
Receive workouts from Daily Burn FREE for 8 weeks!
Bowflex® and Daily Burn®, the leader in streaming workouts, have teamed up to provide a complete workout program developed exclusively for the Bowflex Max Trainer®. Purchase a Bowflex Max Trainer® and receive the entire 8-WEEK workout program absolutely FREE! But that's not all, with your FREE 8-WEEK plan you'll also have access to the full library of Daily Burn® content – over 600 workout videos including HIIT cardio, yoga, strength training, dance and more!
Your Daily Burn membership, which starts with an 8-week trial offer, will begin when you sign up. During the 8-week trial period you can cancel your account at any time and you will not be charged. See Terms of Service for more details.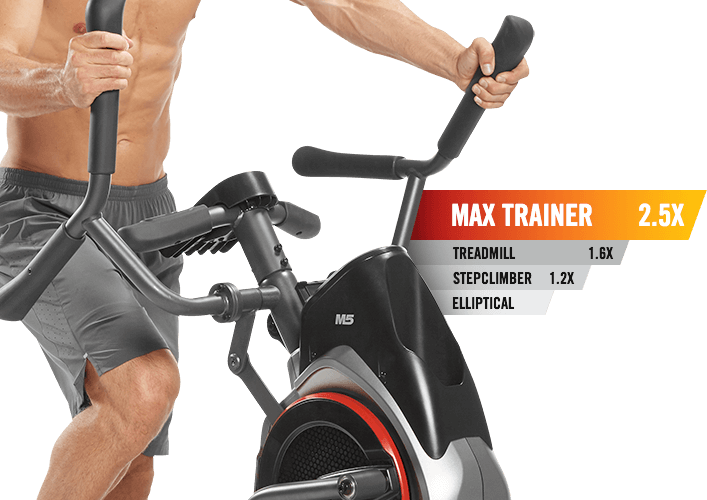 Burn Calories Faster
2.5X More Calories Burned Every Minute‡
An independent study pitted MAX against treadmills, steppers, and ellipticals with users working out at the same pace and intensity. In the end, users burned more calories on MAX than every cardio machine tested by up to 2.5X per minute! How's that for MAX burn?
‡ Source: Bowflex Max Trainer Independent University Study (2013).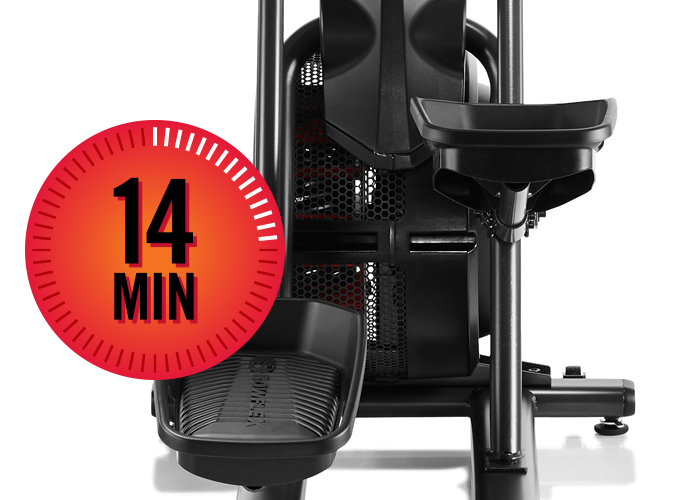 Less Time, Max Results
14 Minutes is All You Need
Research tells us that "lack of time" is the #1 barrier to working out. That's why the breakthrough Max Interval workout was designed for those with speed in mind. You'll get all the cardio benefits of a much longer workout in just 14 minutes. Strengthen your heart and lungs and improve your endurance and stamina - all while incinerating calories faster than you ever thought possible.
Buy Now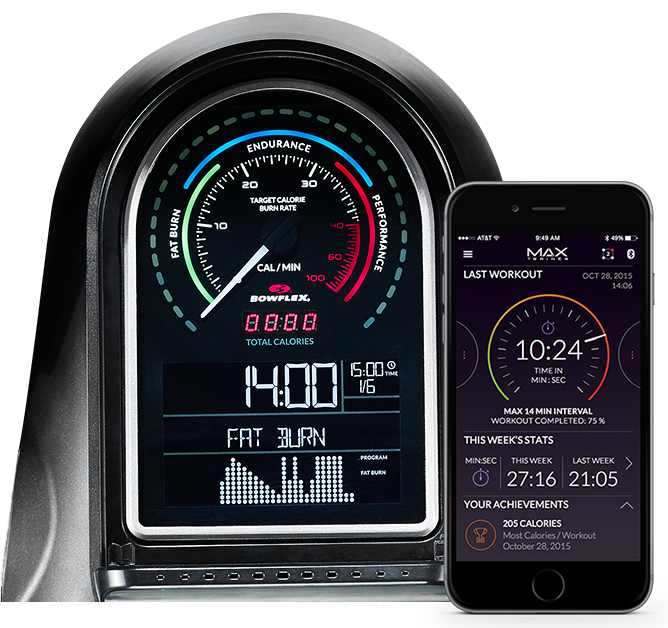 Max Motivation
See Your Burn As It Happens
MAX's unique BURN RATE display puts you in control, showing you how many calories you're burning every minute and setting activity level targets throughout your workout. It's an incredibly motivating tool that pushes you to challenge yourself in every workout. Plus, MAXimize and track every workout with free Max Trainer 2 app (Android / iOS), which can sync with Apple Health.
Learn More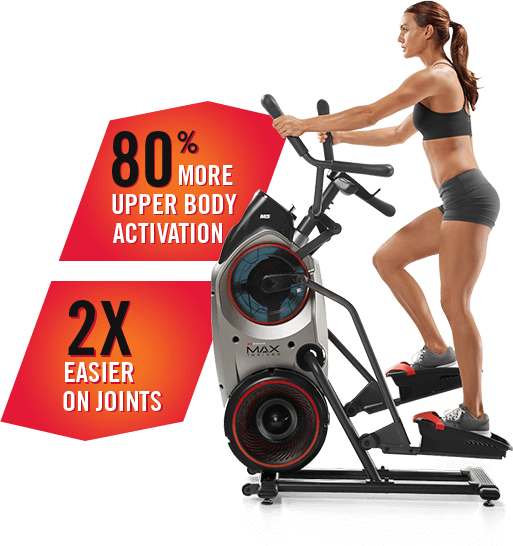 Full Body, Max Comfort
Max Engages it All with Virtually Zero Impact
Ellipticals claim to be a full body workout, but they don't come close to MAX. Testing in the lab showed it engaged more core and lower body muscles than ellipticals and up to 80% more upper body. MAX is also gentle on your body. Running on a treadmill at even a moderate speed produces over 2X more impact on your body than a Max Trainer workout.‡
‡ Source: Bowflex Max Trainer Independent University Study (2013).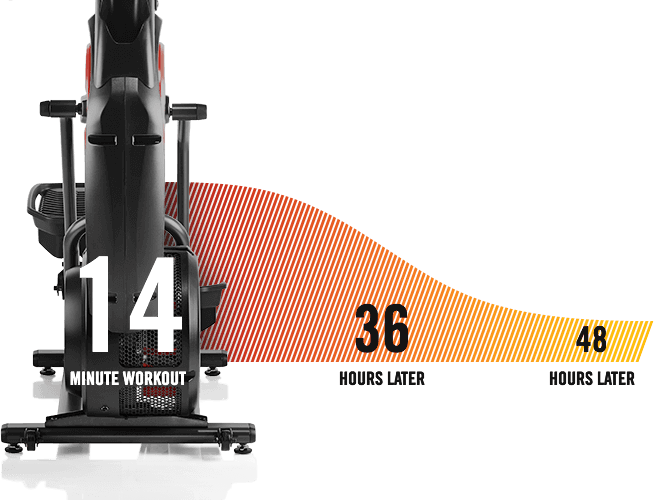 The Afterburn Effect
It Keeps Going and Going...
Burn now and burn later. The 14-minute Max Interval workout uses simple science to deliver very complex (and amazing) results. Small bursts of activity followed by longer periods of rest keep your body guessing and ramp up your metabolism to burn additional calories for hours after your workout.
Buy Now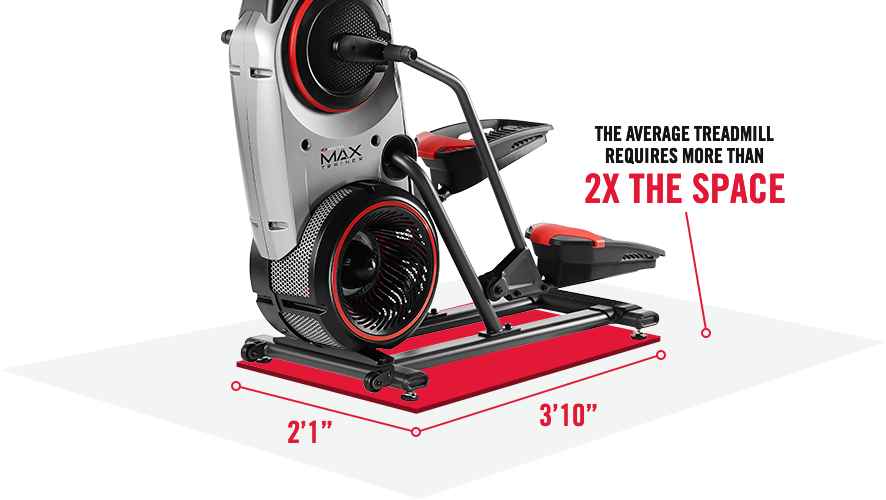 Compact Design
Fits Almost Anywhere
A lot of people don't exercise because they don't have room for big, bulky equipment. At a fraction of the size of most ellipticals and treadmills, the Bowflex Max Trainer is the epitome of form meeting function. MAX's ultra small footprint means you can get a gym quality workout in nearly any room of your home.
Max Options. Max Performance.
Compare Max Trainer
Starting at $999
The most effective full-body workout in 14 minutes guaranteed.
Compare Models