Build-Your-Own Freezable Casseroles

I'm not the biggest fan of the traditional heavy iconic casseroles my husband loves. Think tater tot casserole, tuna noodle, pork chops 'n stuffing, and hamburger helper type dishes! But casseroles are SO convenient, I can't overlook them, especially once Fall weather arrives and with it even busier schedules between work, dance classes, volunteer activities, and soccer games.
General Tips
Have a supply of disposable aluminum casserole containers for stackable storage and easy clean-up or buy several glass casserole dishes with lids and freezer tape or freezer labels. Normal masking tape won't always hold up in the freezer.
Large mason jars work really well for freezing soups and stews.
Label, date, and write baking instructions on the lid so your spouse, baby-sitter, or older child can prep it, if possible. I use a double layer of aluminum foil for the lid and write the instructions with a sharpie.
Plan to make double casseroles and put one in the freezer every time you make a casserole so you're not making entirely different meals just for the freezer. This will save time and money.
Steps
Choose a cooked freezer-friendly grain or starch – cooked brown rice, pasta, or quinoa all work well. Potatoes generally don't work well.
Select a pre-cooked protein. Cook extra chicken, pork loin, lean steak, lean ground meat, or shrimp (all work well in casseroles).
Add lots of vegetables of your preference.
Add optional toppings: cheese, nuts or seeds, or chopped cooked bacon (A little goes a long way!).
Use the recipe below as a guideline for quantities. For example, you can swap brown rice for the quinoa, steak or shrimp for the chicken, omit the yogurt and cheese, and use teriyaki sauce in place of the cumin, chili powder, and diced tomatoes for an Asian casserole. Another option is to replace the chicken with ground meat, the diced tomatoes with marinara sauce, and pasta for the quinoa and you have a Baked Pasta Casserole.
Mexican Quinoa Casserole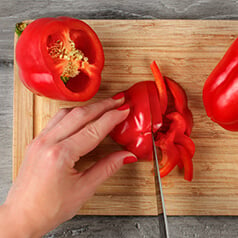 Prep time: 10 minutes
Cook time: 30 minutes
Total time: 40 minutes
Servings: 8
Nutrition per serving:
Calories 280Fat 7 gCarbs 30 gFiber 6 gProtein 24 g
Ingredients
1 cup uncooked quinoa (makes 2 cups cooked)
1 tablespoon olive oil
1 medium onion, chopped
1 green bell pepper, chopped
1 red bell pepper, chopped
1 pound boneless, skinless chicken breasts, cut into bite-size pieces (about 2 large breasts)
1 tablespoon plus 2 teaspoons chili powder
1 1/2 teaspoons ground cumin
1/2 teaspoon salt
1 cup mild salsa
1 (15-ounce) can fire-roasted diced tomatoes, well drained
1 (15-ounce) can black beans, rinsed and drained
1 cup plain Greek yogurt
1/2 cup freshly grated sharp cheddar cheese, divided
1/2 cup freshly grated mozzarella cheese, divided
Fresh cilantro, for serving
Directions:
Place 2 cups water or chicken broth (for extra flavor) and quinoa in a large saucepan, then bring to a low boil. Reduce heat to low, cover, and let cook for 15 minutes. Remove from heat and let stand, covered, for 5 minutes. Fluff with a fork and set aside.
In a large sauté pot, heat the olive oil over medium high. Add the onion, green bell pepper, and red bell pepper. Sauté until slightly softened, about 5 minutes. Add the chicken, cumin, salt, and salsa. Continue to sauté until the chicken is cooked through and no longer pink, about 4 to 5 minutes. Remove from the heat.
Stir in the black beans, roasted tomatoes, chili power, reserved quinoa, Greek yogurt, 1/4 cup cheddar cheese, and 1/4 cup mozzarella cheese. Taste and adjust seasoning as desired.
Transfer the mixture to a 9x13 inch glass casserole or large foil pan.
If cooking immediately, bake at 375° F for 25 minutes covered with foil. Take foil off and bake an additional 5-10 minutes or until cheese is melted and dish is bubbling slightly.
Top with cilantro, if desired.
If freezing for later, let cool, cover with foil and freeze for up to 2 months. Thaw 24 hours in advance and following cooking directions above.
Be sure to check out our other recipes for more delicious and healthy meals.
You may also like