Crunchy Un-fried Chicken Recipe
In honor of Saturday being National Fried Chicken day and the summer BBQ and picnic season ramping up, it seemed like a good time to share this family recipe. With the average medium piece of fried chicken weighing it at 350 calories and a whopping 21 g of fat (and not the healthy kind!), this recipe is definitely a swap worth making. It gives you a moist chicken breast encased in a crunchy coating that melts in your mouth without all the fat and calories but every bit of the indulgence. Baked in the oven and freezer-friendly, these are a sure-fire family favorite. Tasty AND healthy enough for everyone to enjoy!
Serve with coleslaw or salad and rice or quinoa for a complete and balanced meal.
Crunchy Un-Fried Chicken
Prep time: 5 minutes
Cook time: 20 minutes
Total time: 25 minutes
Servings: 4
Nutrition per serving:
Calories 258Fat 14 gCarbs 5 gFiber 2 gProtein 28 g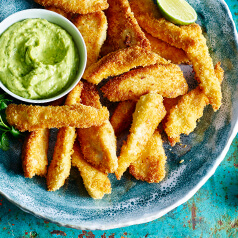 Ingredients
1 lb of chicken breast or skinless boneless thigh meat, sliced into tenders
2 eggs + 1 tbsp water
½ cup almond flour
½ cup coconut flour
Salt to taste
½ tsp garlic powder
½ tsp onion powder
1 tsp paprika
1 tbsp finely chopped parsley (fresh or dried)
Directions
Preheat oven to 425° F. Coat cookie sheet with a silicone baking mat or higher temp oil, such as coconut or grapeseed oil.
Beat eggs in a bowl with water and set aside.
Mix almond flour, coconut flour, and spices in a separate bowl and set aside.
Sprinkle chicken with salt.
Working in small batches, coat chicken tender pieces in egg and then dip into flour-spice mixture. Place coated pieces on cookie sheet.
Bake for 18-20 minutes, or until lightly browned. Flip once at the 10-minute mark.
You may also like
Roasted Broccoli Recipe