Tinfoil Packet Chicken Fajita Dinner

Perfect for camping, cooking on the grill, or even baked in the oven during winter months, tinfoil packet meals offer convenience and versatility. I also love that they can be customized to each person's preferences. Prefer more vegetables and less meat? Or you like things on the spicier side? It's easy to individualize each packet for your taste preferences. You can use this recipe as a guide, but cook times and temps should be very similar no matter what type of protein or vegetables you use:
Protein options: chicken, pork, steak, seafood (shrimp and firmer fish like salmon work well), and ground meat.
Quicker cooking vegetables tend to turn out better (For example: summer squash, peppers, mushrooms, and onions) but even potatoes and corn on the cob can be included in your packet.
Grains, such as brown rice or quinoa can be added to packets or cooked on the side.
The smaller you dice raw ingredients (protein and vegetables), the quicker the cook time.
If cooking over a campfire, use a double layer of tinfoil.
Tinfoil Packet Chicken Fajita Dinner
Prep time: 10 mins
Cook time: 30–45 mins
Total time: 45 mins
Servings: 4
Nutrition per serving:
Calories 277Fat 11 gSodium 574 mgSugars 3 gProtein 28 g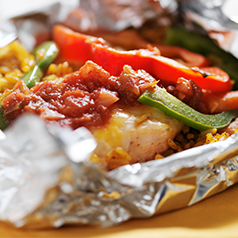 Ingredients
1 cup brown rice, cooked
1 cup hot water
2 tsp cumin
4 small boneless skinless chicken breasts (1 lb)
1 green pepper, cut into strips
1 red pepper, cut into strips
1 small onion, cut into strips
1/2 cup salsa
1/2 cup shredded cheddar or Mexican cheese blend
Directions:
Heat oven to 400 degrees.
Fold up sides of sheet of tin foil to form a 1-inch rim; spray with cooking spray.
Combine rice, water, and cumin. Cook according to package.
Spoon into foil and top with remaining ingredients. Close foil packet.
Bake 25–30 minutes on cookie sheet or until chicken is done and no pink juices come out of chicken when sliced. Allow to cool for 5 minutes.
Cut slits in foil to allow steam to release before opening packet.
You may also like
Camping Dinner Ideas