Stay Sweet: Thyme-Roasted Sweet Potatoes

We all love visitors, and the holidays bring many. We've got the big ones under control - Thanksgiving, Hannakuh, Christmas, and New Years - but its the days in between that can feel like a revolving door of surprises with last-minute visits from friends and family. It's fun, it's festive, and, well, it's go-time, my friends.
Remember though, the holidays should be more feel-good than bah-humbug, more Santa than Scrooge. So save yourself unnecessary stress by creating an arsenal of easy go-to's for when you have unexpected guests, allowing you to enjoy the company, rather than dread it. This can be a collection of simple-but-delicious recipes and appetizers that wow your loved ones while using ingredients with a slightly longer shelf life - think potatoes, onions, and frozen meats for main dishes, and small bites like sundried tomatoes, olives, smoked sausage, pepperoni, marinated artichokes, carrots, and nuts for snacking.
Signature Spread
I'm a big believer in having a signature spread. By spread, I'm not talking dip or sandwich smear; I'm talking a delicious spread of snacks you can arrange on a platter at any given notice, without skipping a beat. This is for your sanity – not just for the pleasure of guests. Spread-worthy snacks are typically a mix of tastes and textures – savory, crunchy, salty – that guests can enjoy while socializing and tipping back a tasty beverage upon arrival.
My staples include kalamata olives, cheddar cheese, maple-roasted almonds, sundried tomatoes, mozzarella, brie, artichokes, smoked sausage or pepperoni, and crunchy vegetables like carrots and broccoli. Most of these can be bought ahead of time and last for a couple of weeks, making them a perfect stash-away during to use in these merry moments.
Effortless Protein
It's always a good idea to keep a couple of proteins in the freezer. If you get a call from a guest announcing their visit, you can defrost the meat and roast with herbs and citrus for a lovely holiday touch without much fuss. Looking for a recipe? Give these lemon-thyme roasted chicken legs a try.
Stress-free Side
Potato dishes work well as a last minute side. They're delicious, yes, but potatoes also really easy to keep on hand because they last a while when stored properly. My favorite potato dishes include garlic-rosemary smashers and one of my all-time favorites, these four-ingredient Thyme-Roasted Sweet Potatoes.
Thyme-Roasted Sweet Potatoes
Prep time: 5 minutes
Cook time: 45 minutes
Total time: 50 minutes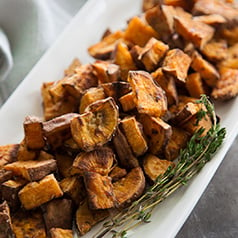 Ingredients
1.5 pounds sweet potatoes (about 3 small-medium sized potatoes)
2 tablespoon olive oil
1 teaspoon coarse salt
½ tablespoon thyme
To Get The Goods:
Cut the sweet potatoes into 1/2 inch pieces, toss in olive oil, salt, and thyme.
Arrange on parchment-lined baking sheet, bake at 425° F for 25 minutes. Flip over the potatoes, bake for another 20-25 minutes, or until light brown on each side.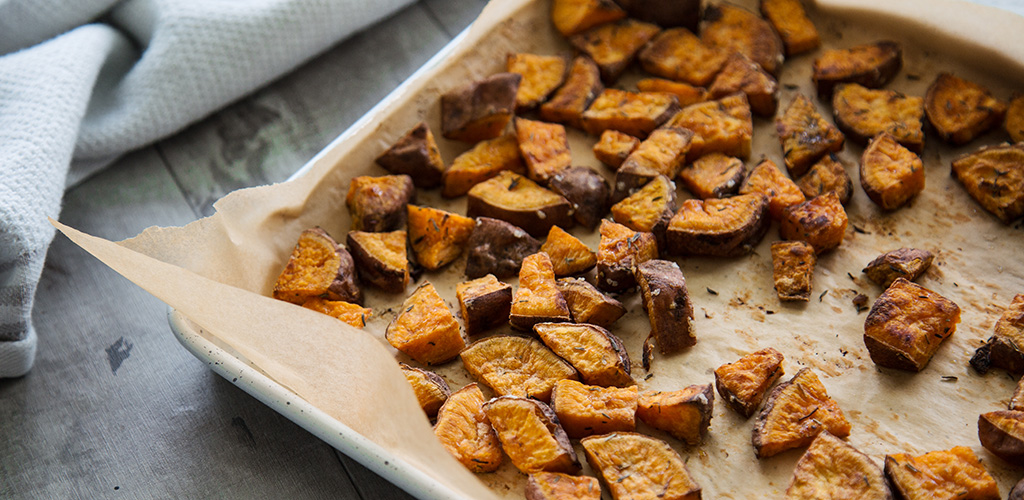 Try this recipe next
Holiday Saver: Lemon-Thyme Roasted Chicken Legs Recipe