Tempting Tempeh Tacos for National Taco Day!

In celebration of National Taco Day, we're bringing you taco tips to add flavor, variety, and nutrition to really rock your tacos! Plus, try something new with Tempting Tempeh Tacos, a surprisingly hearty meatless option!
Tempting Tempeh Tacos
Adapted from www.vegweb.com
Servings: 2
Serving size: 2 tacos
Nutrition per serving (without toppings):
Calories 231Fat 7 gCarbs 27 gSodium 348 mgProtein 13 g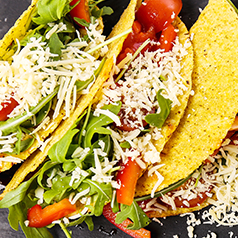 Ingredients
4 oz tempeh (Tempeh is sold next to Tofu in produce section)
1 packet taco seasoning (I use Lawry's taco seasoning)
1 tsp. cumin
1 1/4 cups water
4 taco shells or 4 small corn tortillas
Toppings of your choice
Directions
Cut or crumble tempeh into small pieces. Heat frying pan, spray with cooking spray or 2 tsp. olive oil, and add tempeh. Cook on medium until browned, stirring occasionally.
Add taco seasoning (Follow package instructions. You may end up using less than an entire package.), cumin, and water. Cook gently until thickened.
Scoop into corn tortillas or taco shells.
Add toppings of your choice.
Taco Tips
Try these toppings: shredded lettuce, cabbage, cilantro, chopped onions, tomatoes, avocado, and salsa.
If you're a carnivore at heart, try mixing half tempeh with half ground beef or turkey.
Tempeh is a fermented soybean product, high in fiber, prebiotics and protein, and a great meatless alternative. It works as a great substitute to any recipe calling for ground beef. It's firm in texture with a nutty grainy flavor.
Tacos are a versatile quick and easy meal, served with a side salad, and pinto beans. Skip the high calorie toppers like sour cream and cheese for a lighter meal.
Use corn tortillas or hard taco shells (usually about 150 calories for 3!) and ditch the flour tortillas.
Skip the rice as a side.
Try using different protein options and salsas for variety. Pretty much anything can go in a taco!
Try this recipe next