Holiday Recipe: Sweet Brussels Sprouts

No veggie has made more of a splash on the food scene than Brussels sprouts. Except maybe kale. Yes, kale is quite popular. But for about ten years, these mini cabbages have consistently adorned the side dish menu at even the most indulgent restaurants. Chefs everywhere have transformed the food that once had to be forced down people's throats into the biggest food trend since donuts' resurgence. You can find them on more magazine pages than Kim Kardashian and with good reason. Without a whole lot of effort, Brussels sprouts can be turned into a decadent delight, as in my recipe below.
I made these for the past three Thanksgiving dinners and they never fail to disappear – quickly. They are the perfect combination of salty and sweet and one of my go to recipes during the holidays to win over even the stubbornest Brussels sprouts haters.
Sweet Brussels Sprouts
Prep time: 15 minutes
Cook time: 45 minutes
Total time: 60 minutes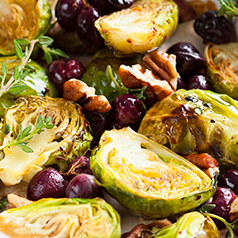 Ingredients
1 large stalk or two bags of Brussels Sprouts
5 tbsps. Olive Oil
1/4 cup Maple Syrup
1/2 cup Pecans
Dash Nutmeg (optional)
Sea Salt
Directions
Preheat oven to 375 degrees F.
Rinse and dry Brussels sprouts and cut off ends and any brown leaves. Cut sprouts in half.
Place pecan pieces in plastic bag and crush with the back of a wooden spoon or mallet until finely chopped.
Blend olive oil and maple syrup in Pyrex and warm slightly in the microwave or in a saucepan on stove.
In a large mixing bowl, toss oil and syrup mixture with sprouts and nuts. Sprinkle with salt and toss well to coat all sprouts. Spread onto large baking sheet and sprinkle with nutmeg.
Place in oven and roast for 40-45 minutes, tossing intermittently.
Allow to cool slightly and transfer to serving dish.
Gobble 'em up.
Try this recipe next