Stronger Every Day: San Francisco Salad Tips

Salads can be a great way to introduce yourself to a new, healthy lifestyle. But how does one go about assembling a healthy salad that doesn't compromise when it comes to deliciousness or visual appeal? During the Stronger Every Day: San Francisco tour, we partnered with Chef Alex Tishman of Big City Chefs to teach us how to prepare a beautiful salad that is full of flavor and can be prepared on nearly any food budget. His recipe can work for anyone, but what if you can't get those ingredients? To help, Chef Alex shares his tips below for making the perfect salad.
After graduating from the California Culinary Academy with honors in 2005, Alex trained as a chef in the San Francisco Bay area for six years. Upon receiving his A.O.S. in Culinary Arts, he worked his way up from line cook to sous chef at several of the most prestigious dining establishments in the region, including One Market, Acquerello, Yoshi's, and Chow. Today, he is lead private chef at Big City Chefs in San Francisco, a national agency employing some of the most acclaimed private chefs in the country, including the team featured on the Food Network series Big City Chefs of Beverly Hills.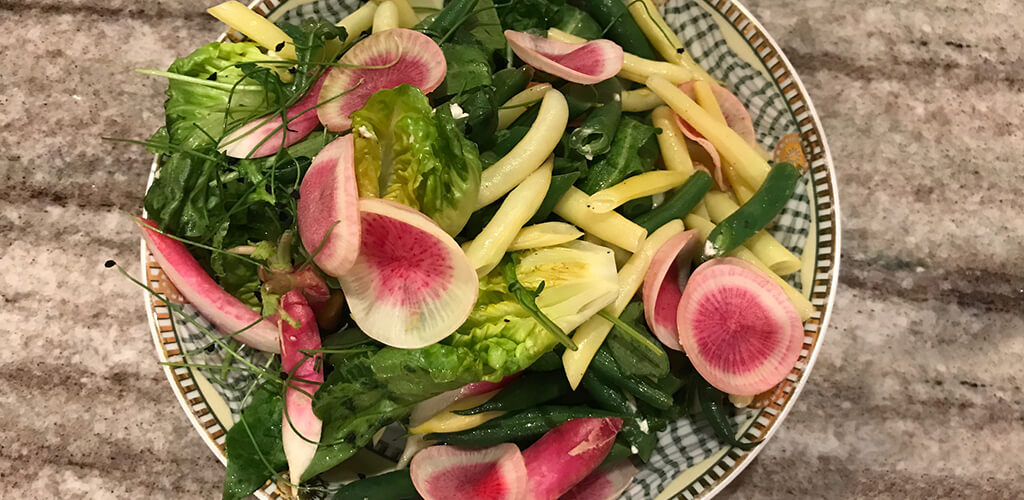 Let's dive in!
Shop in-season/go to your local Farmer's Market. You don't have to just use just lettuce as your base – use other hearty vegetables such as shaved Brussels sprouts, julienned squash, torn kale, etc.
Avoid bagged lettuce. Opt for fresh, it's worth the extra few minutes to wash and chop.
Wash lettuce and dry before storing in a hard container with a paper towel on the bottom and top to ensure good storage. Do not store lettuce in a plastic bag.
Salads should be interesting and delicious. Think texture, acid, fat, salt, temperature, color. Look for vegetables that are unusual in shape or color, cheeses that are unique in texture, and other elements are cut in different ways.
Pro tip: Chill your serving platter ahead of time!
When mixing the salad, use a large bowl and dress the inside of the bowl first and then add the greens and season them with salt and pepper. Then gently and thoroughly dress before serving. Use your hands to mix to keep the handling as gentle as possible.
Evenly distribute additional items. Make it beautiful, like art. Give salad the same attention you'd want to give every other course.
Did you enjoy this series? The BowFlex Stronger Every Day tour is headed to even more cities in 2020. See ya' soon!
You may also like
Stronger Every Day: San Francisco Kettlebell Workout