Stop Overlooking Cauliflower

Once looked at as boring, cauliflower has become the "it" vegetable over the last year and has quickly become a cultural phenomenon. Transcending the popularity of broccoli, kale and Brussels sprouts, cauliflower has become one of the biggest food trends of 2019.
From pizza crust to chicken wings — cauliflower is now a popular substitute for various foods. As gluten-free, vegan, paleo and vegetarian options continue to become more prevalent in today's menus and recipes — it is no surprise that cauliflower has risen to the top of the food chain!
This spike in popularity is due in part to the flourishing plant-based food industry. There is an increasing shift to plant-based diets, and to appeal to that demand, restaurants and consumers alike got creative.
"But what is the appeal of cauliflower?" you may ask.
Due to cauliflower's texture and taste, it is easy to mimic high-carb foods, like pizza crust, making it the chameleon of vegetables. Cauliflower by itself does not have a flavor personality, allowing people the opportunity to get creative with what they eat in a healthy way. But the best part of cauliflower is that anyone can prepare it — from roasting it in the oven with some salt and pepper to tossing it in some buffalo sauce — cauliflower is extremely versatile, easy to make and tasty!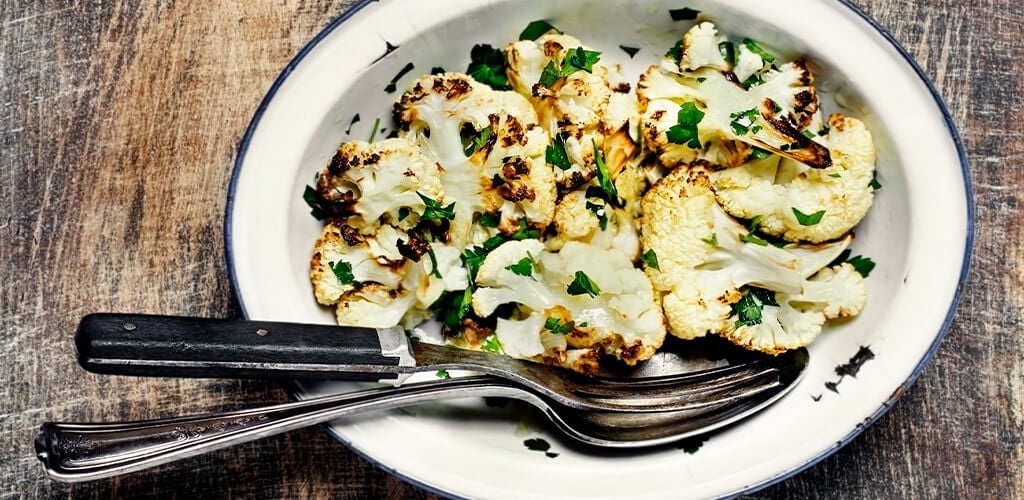 On top of all of this, cauliflower is healthy, relatively cheap and widely accessible, as it can grow across the globe in various climates. Additionally, since it is high in fiber and a good source of antioxidants, cauliflower can make you feel fuller faster, ultimately reducing your overall calorie intake. One cup of cooked cauliflower contains just 30-75 calories — does it get any better than that?
Not many other vegetables allow you to take your favorite comfort foods and make them healthy, all while preserving the flavor and texture you crave. For these reasons, people can't stop raving about cauliflower.
Want to try cauliflower for yourself to see what all the hype is about? Check out some of our favorite cauliflower recipes:
You may also like
Recipes To Increase Your Cruciferous Vegetables