Healthy Recipe: Spaghetti Squash with Chard

This is hands down my new favorite recipe! Perfect as a main dish or a side for fish or chicken. Light and full of flavor, it's super easy and keeps well. Packed with fiber to keep you full, and healthy fat for glowing skin and easy insides.
Spaghetti Squash with Chard
Servings: 2-3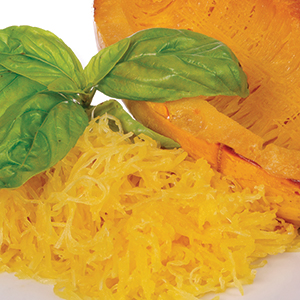 Ingredients
1 spaghetti squash (You will use 4 cups after prep)
3 tbsp. sesame oil
1 bunch Swiss or rainbow chard
1/4 cup fresh basil
1/4 cup walnuts
1 tbsp. olive or walnut oil (basil infused is wonderful if you can find some)
Nutritional yeast (to taste)
Sea salt (to taste)
Directions
Pre-heat oven to 350 degrees F (175 degrees C). Pre-cook squash by slicing in half and scooping out seeds and pulp from inside. Place each half squash face up in baking pan with 1/2" of water and bake for 35-40 minutes or until you can easily pierce squash with a fork. Remove from oven and allow to cool. When ready, scrape all the squash out with a fork creating spaghetti like strands and store in large bowl or Tupperware.
Cut chard into strips. I like to fold a big bunch in half then slice across. That usually gives me good size pieces. 'Smash' walnuts. Place in plastic baggie and use the back of a wooden spoon or mallet to break and 'smash' walnuts until they are very small and fine in consistency.
In a large cast iron skillet, heat about 3 tbsp. sesame oil on medium high. Add chard and sauté until well wilted. Add squash and basil and mix well. Drizzle in olive or walnut oil. After about 2 minutes, add chopped walnuts and salt to taste. Sauté another two minutes then turn the heat off and allow to sit for a bit. Transfer to large bowl and sprinkle nutritional yeast for additional cheesy flavor and sea salt to taste.
Try this recipe next