Make Ahead Meal: Slow Cooker Pulled Pork Recipe

Sundays serve up a great opportunity to set the tone of the week, especially when it comes to food. I like to make a big batch of something yummy that can be used for quick meals throughout the week – this way there are no excuses for getting off track or skipping a meal.
When it comes to protein, a batch of slow cooker pulled chicken or pulled pork is an easy way to get ahead. I'll use it throughout the week over a salad, in lettuce wraps, or alongside some delicious sides.
Give this simple tangy pulled pork a try and pair it up with some collard greens and slaw or on a warmed corn tortilla or lettuce wrap for taco night. Top with pickled red onions, avocado, cilantro, lime, and a little hot sauce, and you've got yourself a party.
Slow Cooker Pulled Pork
Prep time: 5 minutes
Cook time: 8 hours
Total time: About 8 hours
Ingredients
4-5 pound pork shoulder (whatever will fit in the slow cooker)
2 tablespoons smoked paprika
2 tablespoons maple syrup
1 teaspoon crushed red pepper (optional)
1 teaspoon garlic powder
1 teaspoon salt
1 teaspoon pepper
1 teaspoon onion powder
¼ cup apple cider vinegar
½ cup water
To Get The Goods
Mix all of the dry ingredients in a bowl, add the maple syrup and continue to mix until you have a paste. The maple syrup works wonderfully for this – so while other recipes will use brown sugar, I like the idea of using a natural sweetener because it creates a great spread to smother the pork.
Spread the mixture over the pork. Meanwhile, add the apple cider vinegar and water into the slow cooker. Place the pork in the slow cooker and cover.
Cook for about 8 hours, until cooked through and nice and tender. Remove from slow cooker and place on cutting board.
A lot of the outer fat will naturally fall off and remain in the juices in the slow cooker. Remove the fat from the liquid by using a skimmer and toss. Remove the liquids from the slow cooker, strain more as desired, and set aside.
Using two forks, shred the pork, then place the pork back in the slow cooker. Stir the liquids you set aside earlier, then pour some – about ¼ or ½ or until the desired juiciness – over the pork and mix thoroughly. Keep covered on warm or low until ready to eat.
Pair with tacos or delicious sides, and enjoy! Then save the rest to use throughout the week.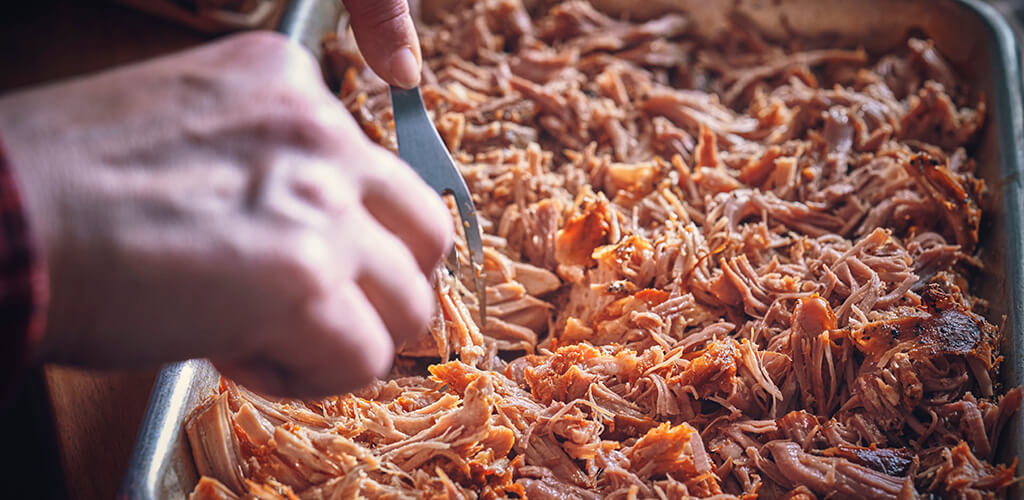 Tip: If you'd like crispy ends, add the pulled pork to a lined baking sheet and broil for a few minutes.
Too add a little bite to these check out my simple Apple cider Vinegar Pickled Onions.
You may also like
Loaded Sweet Potato Nachos Recipe