Savory Breakfast Muffins Recipe

Do you get tired of eggs, oatmeal, or smoothies but don't want a sweet muffin for breakfast? Egg muffins never reheat very well, in my opinion, but these savory breakfast muffins are hearty, keep well in the fridge for up to a week or freezer for 2 months, and are easy to grab, reheat for 30 seconds, and go. I cook extra bacon or sausage on the weekends to have these prepped for the week. Try different combinations of vegetables and add cheese for variety.
Savory Breakfast Muffins
Prep time: 15 minutes
Cook time: 26 minutes
Total time: 41 minutes
Servings: 12
Serving size: 1 muffin
Nutrition per serving:
Calories 125Fat 5 gCarbs 14 gFiber 2 gProtein 6 g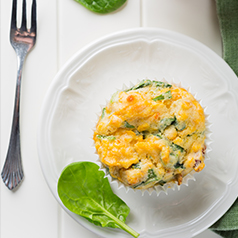 Ingredients
3-4 strips bacon or 2/3 cups sausage, cooked and chopped
1 red pepper, diced
2 cups fresh spinach, finely chopped
1 cup plain quick oats
1 cup whole wheat flour
1 tbsp. baking powder
1 tsp garlic salt
1 tsp cumin
3 large eggs
1 cup milk of your choice
2 tbsp. olive oil
Directions
Preheat oven to 375 and spray muffin tins with cooking spray or line with muffin liners.
Heat pan over medium heat, coat with cooking spray, and cook pepper and spinach.
Combine oats, flour, and baking powder. Add cumin and garlic salt.
In a separate bowl, whisk the eggs, milk, and oil.
Pour wet ingredients into dry ingredients and stir until combined (dough will be slightly dry).
Spoon batter into muffin tin. Sprinkle with cheese, if desired.
Bake for 16-18 minutes.
Be sure to check out our other recipes for more delicious and healthy meals.
You may also like
Breakfast To Go: Breakfast Burritos