Healthy Recipe: Salmon Quinoa Veggie Burgers

As much as I love soups, stews, chili, and crockpot concoctions, somewhere in the middle of winter, I start craving grilled protein. These salmon quinoa veggie burgers are the perfect remedy! Paired with asparagus or salad, they make a quick light dinner. Leftovers make for a great lunch. Go with a bun or not, use freshly cooked salmon or canned, and add shredded zucchini or carrots for even more variety and a nutritious punch.
Salmon Quinoa Veggie Burgers
Prep time: 30 min
Cook time: 15 min
Total time: 45 min
Servings: 6
Serving size: 1 patty
Nutrition per serving:
Calories 240Fat 11 gCarbs 8 gFiber 1.4 gProtein 18 g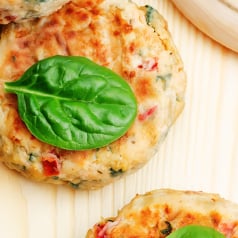 Ingredients
16 oz. deboned, salmon fillet
1 tsp olive oil
1/3 cup onion, finely diced
1/3 cup red pepper, finely diced
1 cup kale or baby spinach, chopped
Salt and pepper, to taste
1 cup cooked quinoa
2 tbsp. Dijon mustard
1/2 tsp. Cajun seasoning
2 eggs, beaten
Directions:
Heat a large nonstick skillet over medium heat, add the oil and sauté onion, red pepper, and kale or spinach. Season with salt and pepper and cook over medium heat until wilted and tender, about 4 to 5 minutes.
While veggies are cooking, combine salmon, quinoa, seasoning, and eggs in a large bowl.
Once veggies are cooked, add to bowl with other ingredients and mix to combine. Form into 6 patties.
Heat a nonstick pan or skillet over medium heat. Coat with cooking spray and add the salmon patties. Cook 4-5 minutes on each side, or until lightly browned.
Serve with side salad, soup, or asparagus.
Try this recipe next