Refreshing Spring Sipper: Watermelon Sparkler

With summer just around the corner, temperatures are beginning to rise rapidly. Staying hydrated with plain ol' water, while effective, can get a little dull. If you get tired of the typical ways to dress up H2O with lemon and lime juice or using a water bottle flavor infuser packed with different combinations of fruits, vegetables, and herbs, but don't want to slurp down a sugar calorie packed soda, sweet tea, or cold coffee concoction, try this healthier refreshing summer sipper. Water should still be your main source of fluid though. Refreshments like this, while healthier than other alternatives, should still be sipped on occasion as a treat.
Watermelon Sparkler
Servings: 4
Nutrition per serving (using 100% apple juice):
Calories 31Fat 0 gSodium 2 mgSugars 7 gProtein 0.5 g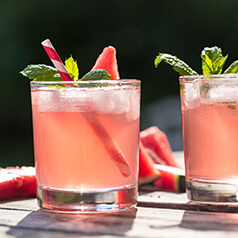 Ingredients
2 cups watermelon
1/4 cup 100% juice of your choice
1/4 cup water
About 16–20 oz Sparkling water
Directions
Blend watermelon chunks with juice and water.
Pour 1/2 cup into a glass and fill remaining glass with sparkling water.
Tips: Use other melons like honeydew or cantaloupe in place of watermelon. Additional liquid may be needed for desired consistency. Try adding fresh squeezed lime or a sprig of mint for a different flavor.
Try this recipe next