Recommitting to Your Health After An Injury

It was just a few days after running my first half marathon, when I got the call from the doctor.
The MRI and x-rays revealed that I had a broken ankle, but I didn't break my ankle while running the half marathon. I didn't even break it during training. I had broken my ankle at some point long ago, maybe even years ago and I've been running on it this whole time.
The ankle is basically a ball joint, and the bone I broke is called the talus bone, which is the ball of the joint. The talus has since healed, but the cartilage supporting the talus has been terribly damaged and will never heal. Cartilage in the body does not have a blood supply and therefor won't regenerate. So any damage done to cartilage, cannot be undone. Because of this, the doctor told me I should never run again as the impact from running would continue to damage my ankle and could eventually lead to severe arthritis. I was heartbroken.
I was heartbroken not so much because my ankle was injured, but more because I was told I could no longer do the one form of exercise that I actually enjoyed. You see, my whole life I hated anything to do with exercise. I hated team sports where people relied on me to not mess something up. I hated individual sports where I never won anything. I hated aerobics classes that always seemed to have the worst taste in music, and I wasn't a big fan of the gym where the equipment was smeared with strangers sweat and creepy guys ogled me.
Then I discovered long-distance running. It was a form of exercise that I could do where no one was judging me, there was no competition, I could choose my own music, and I didn't have to touch stranger sweat. I was so sad when I was told that I should never run again. What was I going to do to stay physically fit and healthy now?
The truth was I didn't do anything for a while. Unsurprisingly, it didn't take long for my body to relax into couch potato mode, and this is a mode I'm not a fan of. So I knew I had to find some other kind of fitness that wouldn't injure my ankle any further. I liked feeling fit and healthy so it was time to find a solution I could fall in love with.
I was pondering this as I walked passed the guest room in my house and inspiration struck! I figured out the answer. I would turn the guest room into my very own home gym! I started working on it immediately. I bought a Murphy bed and installed it in the room so that I could still have guests stay over when needed, but it provided the room to allow for fitness equipment. I moved an old elliptical I had borrowed from my parents' house into the room. My boyfriend had brought an extra TV with him when we moved in together, so I even added that to the room. Now all I needed was the strength equipment.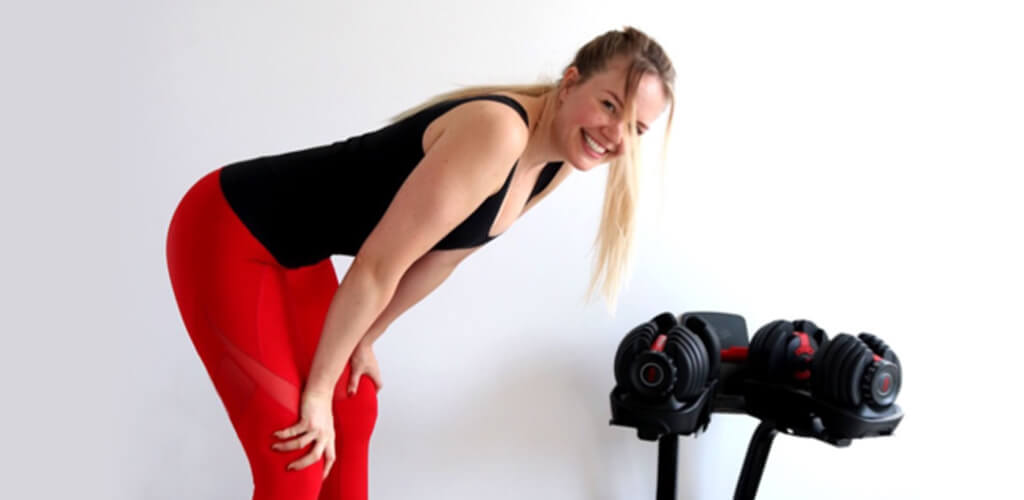 I started researching online and I found the perfect solution: the BowFlex SelectTech line. I got the dumbbells, kettlebell and a workout bench, so I now have everything I could ever want in my home gym!
The BowFlex SelectTech 552 Dumbbells are ideal for a home gym. They take up very little room, but replace 30 dumbbells! I've used adjustable dumbbells in the past where you would need to unscrew a ring, add or remove more plates, screw the ring back on, and repeat with the other end of the dumbbell. Not only is it super annoying, but it takes too much time when switching between weights and can ruin your exercise flow. With the BowFlex SelectTech Dumbbells, the weights can be changed easily and quickly with just the turn of a dial. I like to challenge myself by increasing weight with each set and these weights make it so quick and easy to do that.
The BowFlex SelectTech 840 Kettlebell works similarly; replacing 6 kettlebells. I really love doing kettlebell swings and single-arm kettlebell bench rows, adjusting the weight as needed. And the BowFlex SelectTech Bench enables me to do pretty much any exercise with the weights that I could do in a full gym.
I've been working out with this line of BowFlex products four times a week for one month and I already feel so much stronger and healthier. The BowFlex SelectTech line is so compact that I can easily push things aside when the Murphy bed needs to come down, and yet it's so variable that I know I can continue to grow my muscles without the need for more and more equipment. I've fallen in love with my little home gym and I'm so happy that I was able to find a new form of exercise that I truly love. I get to work out in the comfort of my home with this beautifully designed equipment, whenever I want and there's no stranger sweat in sight! I'm still working on getting back into shape, and I'm looking forward to the journey. Couch potato mode be gone!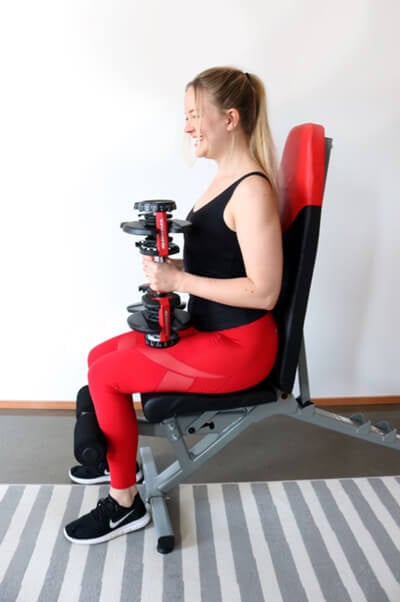 Sam Turnbull is the creator of the popular vegan recipe blog It Doesn't Taste Like Chicken, which receives over 1 million page views monthly. She is the author of the cookbook Fuss-Free Vegan published by Appetite by Random House, which has over 300, 5-star reviews on amazon.com. Additionally, she hosts a YouTube show also called It Doesn't Taste Like Chicken. Sam and her recipes have been featured across TV, radio, magazines, newspapers, podcasts, public speaking events, prominent websites sites, and in notable cookbooks. Contact her on her blog or Instagram @itdoesnttastelikechicken.
You may also like
Rebounding From An Accident: Stronger Than Before