Quinoa Berry Pancakes Recipe

My recent journey with "The Elimination Diet" has left me searching for gluten-free dairy-free egg-free recipes and breakfast is the most challenging. As a dietitian, I'm familiar with gluten-free products and foods, but never have I had to follow such a strict diet. I tire quickly of smoothies, especially in winter, and quinoa porridge looks too much like baby food to be appetizing. I stumbled upon Quinoa flour on a recent grocery shopping excursion and to my surprise, these pancakes are amazing! This recipe is worth trying, even if you don't need to be gluten free. Even my 4-year old likes them!
Quinoa Berry Pancakes Recipe
Prep time: 5 minutes
Cook time: 3 minutes per pancake
Total time: 10 minutes
Servings: 8-10 pancake
Serving size: 2 pancakes
Nutrition per serving:
Calories 200Fat 6 gCarbs 31 gFiber 3 gProtein 4 g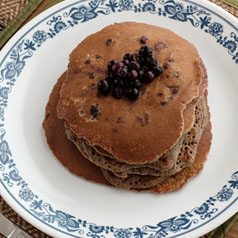 Ingredients
1 cup quinoa flour
2 teaspoons baking powder
2 teaspoons cinnamon
¼ teaspoon salt
¾ cup water
1 flax egg (1 tbsp. ground flax to 2.5 tbsp. water)
1 tbsp. vanilla
1 tbsp. coconut oil
1 tbsp. maple syrup
1 cup mixed berries
Directions:
Combine all dry ingredients in a medium mixing bowl; stir to combine.
Add water through maple syrup and mix well.
Gently stir in berries.
Heat pan over medium heat; pour 1/3 cup batter into pan and cook for 2 minutes. Flip and cook for 1 more minute.
Top with nut butter and/or drizzle with maple syrup.
You may also like
What Exactly Is Quinoa?