Power Pumpkin Spice Cookies

Every year about this time (or earlier since I'm usually completely over the 100+ degree weather we've had for months in the Southwest!) I long for the crisp cool mornings of Fall, leaves changing colors, snuggling up in cozy clothes, and indulging in anything and everything pumpkin spice.
If it was up to me, the pumpkin spice season would be at least half of the year! But if you're like me, or if you're trying to be mindful of sugar intake, the overly sweet coffee concoctions and baked good touting hints of Fall flavors are not appealing. Although this recipe can be 100% sugar-free by using the recommended sugar alternatives, the small amount of sugar goes a long way! I prefer using monk-fruit as a calorie free sugar alternative. In my opinion it has the best flavor, with no weird aftertaste, and works well in baked goods.
The use of extracts is also a great way to add flavor without adding calories, especially in baked goods. These pumpkin cookies are dense and filling; healthy enough for breakfast and to send in kiddos' lunches but indulgent enough to pair with a cup of joe (sprinkled with a dash of cinnamon or pumpkin pie spice and splash of cream for a warm Fall twist!) for the perfect afternoon pick-me-up.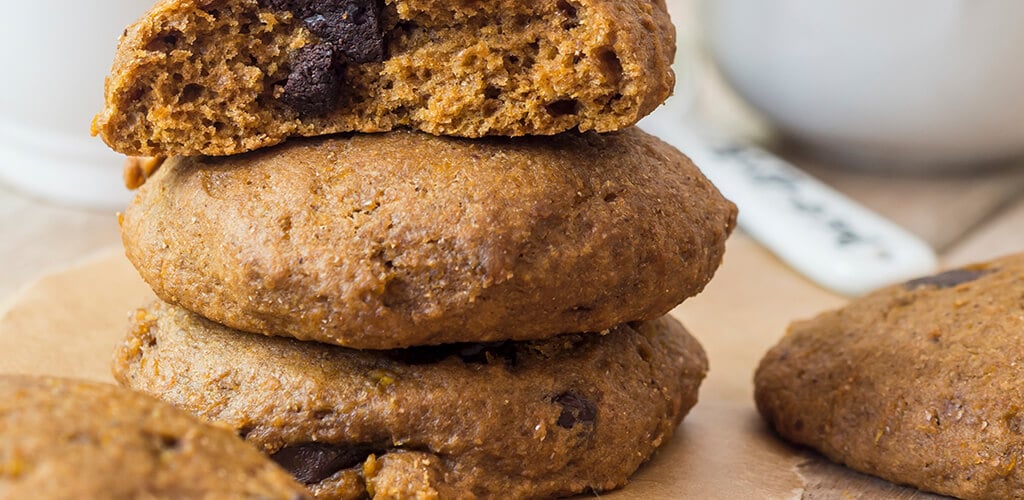 Pumpkin Spice Cookies
Prep time: 15 minutes
Cook time: 20 minutes
Total time: 35 minutes
Servings: 12 cookies
Serving size: 1
Nutrition per serving (per cookie without add-ins):
Calories 120Fat 7 gCarbs 14 gFiber 5 gProtein 5 g
Ingredients
1 cup almond flour
1 cup coconut flour
¼ cup monk fruit granulated sweetener
1/2 tsp baking powder
1/2 tsp baking soda
1 tsp cinnamon
2 tsp pumpkin pie spice
1 tsp vanilla extract
1 tsp maple extract
2/3 cup pumpkin puree (not pumpkin pie filling)
3 eggs
2 tbsp maple syrup (or sugar-free maple syrup)
Optional add-ins: ½ cup raisins, chopped pecans, or mini chocolate chips
Directions
Preheat oven to 350° F. Line cookie sheet with silicone baking mat or cooking spray.
Combine all dry ingredients (almond flour through pumpkin pie spice) in a medium bowl and mix well.
Whisk together all wet ingredients (extracts through maple syrup).
Combine wet and dry ingredients and stir until soft dough forms.
Stir in optional add-ins of your choice.
Form dough into balls (about 2 tablespoons worth) and place on cookie sheet. Gently flatten.
Bake for 20 minutes or until cookies are lightly browned.
Let cool and enjoy!
Keep in the refrigerator for up to 1 week or freeze for 3 months.
You may also like
Healthy Pumpkin Spice Latte Recipe