Soup's On! Pumpkin Red Lentil Soup

Despite the fact I despise being cold, I do love winter for the very reason that I have an excuse to sit in my kitchen all day and cook. Running the oven and the stove warms up my home and I feel justified in nesting and nurturing. Roasting vegetables is often a daily occurrence and making soup from scratch is quite possibly the most satisfying and simple food to whip up. Often because it means I have plenty of servings to share with friends and loved ones. Since the cold and dry season can often be a challenge for those of us who are Vata dosha, warm, mushy, oily and easily digestible soup is perfect to create more balance and nourish us from the inside out. Plus, it often tastes better the next day as leftovers, easily transported to work or even in a thermos in the car.
And here's the deal with soup. You don't need to nail the measurements to have a great tasting meal on your hands. I offer guidelines, but you really can't mess up soup. Try a little more of this or a little less of that and don't be afraid to experiment with what you think you would like. Truth be told, I rarely measure anything when cooking unless I'm baking.
I whipped up this recipe for a New Year's Day celebration and it was a huge hit. It's vegan yet very nutritious with red lentils offering fiber and protein and pumpkin adding a little more fiber and Vitamin A. Plus, the addition of tumeric offers anti-inflammatory properties! If you're watching your intake of refined carbs this season, it's so filling you can make it a main dish sans the side of bread. It would even make a nice breakfast!
Pumpkin Red Lentil Soup
Prep time: 5 minutes
Cook time: 27 minutes
Total time: 32 minutes
Servings: 4
Serving size: 1 cup
Nutrition per serving:
Calories 325Fat 16 gCarbs 35 gFiber 8 gProtein 5 g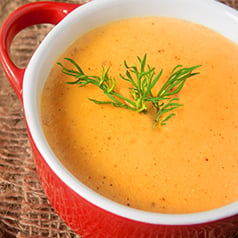 Ingredients
3 tbsp. coconut oil
1" ginger grated
3 tsp. cumin
2 tsp. turmeric powder
1 cup red lentils washed and strained
3 cups low sodium veggie broth
1 can pumpkin
1 can lite coconut milk
3 tbsps. honey
Salt and pepper to taste
Directions:
In a large pot, warm the coconut oil on medium high heat until melted. Add ginger and cumin and turmeric and stir in for about a minute.
Then add lentils and toss to coat in oil mixture for another minute or so.
Add broth and bring to a simmer. Cover with a lid and allow lentils to cook until softened, about 20 minutes or so. They should soak up a majority of the broth.
Once they are cooked through, add about ¾ of the can of coconut milk and the pumpkin. Stir well until everything is mixed together.
Simmer for another 3-5 minutes.
Allow mixture to slightly cool then add it to a blender with the honey. Blend well on medium to high speed.
Return mixture to pot and cook on low for another few minutes, adding salt and pepper to taste.
Add more broth or coconut milk to adjust thickness and taste. Enjoy!
Try this recipe next