Winter Recipe: Pumpkin Cranberry Scones

These scones have a delicious winter flavor combination that will make your mouth water. They're perfect in the morning or as a little snack during the day. Eat some warm or freeze them for later. You'll want to make these every winter!
Pumpkin Cranberry Scones
Servings: 8–12
Serving size: 1
Nutrition per serving (based on 8 scones):
Calories 200Fat 6 gCarbs 28 gFiber 5 gProtein 6 g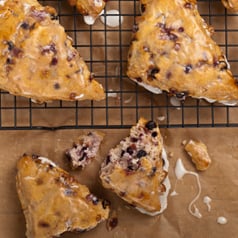 Ingredients
2 cups whole-wheat flour
1 Tbs ground flax seeds
2 tsp baking powder
2 tsp cinnamon
1 tsp ginger
1 tsp nutmeg
1/4 tsp salt
1/2 cup fresh cranberries, coarsely chopped
1 cup pumpkin puree (not pumpkin pie filling)
3 Tbs butter, melted
2 eggs
1 teaspoon vanilla extract
2 Tablespoons maple syrup
Directions:
Preheat oven to 350 F. In a large bowl whisk together dry ingredients (flour through salt). Stir in the cranberries.
In a small bowl whisk together the pumpkin, butter, egg, vanilla and maple syrup. Add the wet ingredients to the dry ingredients and stir to combine.
Turn dough out onto a lightly floured surface and knead 3-5 times (do not overwork the dough. If it's too sticky, sprinkle a little flour on the dough and knead it once or twice before flattening. Pat dough into a round, approximately 1-inch thick.
Cut into triangle shaped pieces (8-12 scones).
Place the scones on a baking tray lined with parchment paper or silicone baking mat. Bake for 15-18 minutes or until slightly golden brown on top. Toothpick or fork should come out clean.
Try this recipe next