Healthy Recipe: Protein Pancake Perfected!

For the longest time, I resisted the word pancake altogether. The original version was nothing more than round shaped fluffy flour requiring loads of butter and syrup - a carb bomb of sugar and gluten waiting to explode in my stomach.
After a few years working in the functional nutrition industry, the concept of protein pancakes was pushed into my consciousness. This did not make the pancake proposition any more appealing, however. Now, all in the name of 'health,' discs of gluten-ous fluff were transformed into dense thick bricks of odd tasting chemical goo. Again, large amounts of butter and syrup would be required to choke the stuff down, negating any 'health' benefits of protein.
However, quite recently, my nutritionist here in Austin, insisted that while generally healthy, my diet was too carb laden - even the good kind. My meals often consisted of large portions of veggies, including root vegetables like sweet potatoes and beets, and brown rice. Bottom line - too many carbs and not enough protein equaled unhealthy high triglycerides.
So, I decided to revisit the protein pancake idea, as I'm not a big fan of fish in the morning and wanted to try something other than eggs. After weeks and weeks of trial and error, I'm thrilled to say I've finally perfected my protein pancake! Better yet, it doesn't taste like cardboard, thanks to some taste advancements in many protein powders. I've created a few different variations, but wanted to share a seasonal one with you so you can take in all the goodness of pumpkin!
Protein Pancakes
Servings: 2 pancakes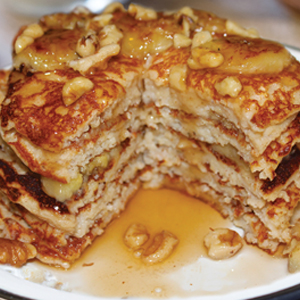 Ingredients
1 tbsp. rolled oats
1 ½ tbsp. vanilla flavored protein powder
1 tbsp. ground flaxseed
1 tbsp. crushed walnuts
1 ½ tbsp. pumpkin
2 tsp. pumpkin pie spice
Almond milk (or other milk of choice)
1 egg white
1 tsp. vanilla
Ghee (or coconut oil or grass fed butter)
Almond butter (optional)
Honey (optional)
Directions:
Mix together oats, protein powder, flaxseed, walnuts and pumpkin pie spice.
Add pumpkin and mash mixture together with fork.
Add just enough milk until the batter becomes well blended and wet, but relatively thick.
Then add egg white and vanilla and beat everything together.
Heat skillet on medium and add a drop of ghee to oil pan.
Pour half of batter into pan. Flip when top becomes cohesive, usually about 2 minutes. Cook for another two minutes or until slightly browned.
Repeat with rest of batter.
I like to smear some almond butter in between and top with a drizzle of honey.
Read this next