Pesto Shrimp Pasta Bowl

I love this recipe because it's super quick, uses a combo of pantry items with fresh ingredients, and is delicious both hot and cold. Even better, is that everyone at my house gobbles it down!
Pesto Shrimp Pasta Bowl
Servings: 4
Nutrition per serving:
Calories 614Fat 9 gSodium 221 mgSugars 5 gProtein 32 g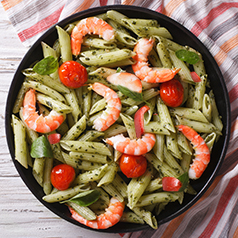 Ingredients
1 jar pesto sauce
1 box whole-wheat penne pasta (or spaghetti noodles)
12oz frozen tail-off shrimp
2 medium tomatoes, chopped
1 medium red pepper, chopped
Directions
Cook pasta according to box. Add shrimp with 5 left to cook (about half-way through).
Dice tomatoes and pepper while pasta cooks.
Strain pasta and pour back into cooking pot. Mix in tomatoes, pepper and pesto.
Enjoy!
Tips: Serve with salad or steamed broccoli. For a lower-carb, lower calorie option use zucchini noodles in place of pasta.
Try this recipe next