The Ultimate Peanut Butter Lovers Recipe

Raise your hand if you've eaten a spoonful of peanut butter before a workout or taken a shot of maple syrup before a run – anyone, anyone? Well, I sure have. Peanut butter is packed with protein and healthy fats, so when I've accidentally skipped a meal or need an on-the-go refuel it's an easy fix. And when it comes to maple syrup, maybe it's my former Vermont living, but I always have a bottle sitting in my cabinet. If I'm feeling sluggish and need a burst of energy before a run, a little maple syrup does the trick, giving me the pick-me-up I need.
I can't be totally off here, because if you browse the grocery store you'll find small packets of peanut butter for exactly this purpose – and maple syrup, too. There are even maple syrup companies creating new arms of their business, marketing the liquid gold's convenient packaging as "all natural athletic fuel." Many are looking to maple syrup as a replacement for running gels, with natural nutrient-rich benefits like calcium, riboflavin, manganese, zinc, potassium, amino acids, and tons of antioxidants. It's low-glycemic, quick to absorb, and easy to digest, too.
These three-ingredient peanut butter protein balls deliver the on-the-go energy convenience of a peanut butter packet with extra protein from almond flour, along with an added boost of energy from the maple syrup (also a nice touch of sweetness). They're naturally gluten-free and if you skip the chocolate, they're vegan and dairy-free. Make a batch and keep in your freezer for when you need a quick boost of energy or want a small dose of indulgence.
No-Bake Peanut Butter Energy Bites
Prep time: 5 minutes
Freeze time: about an hour
Total time: about 65 minutes
Servings: 20 balls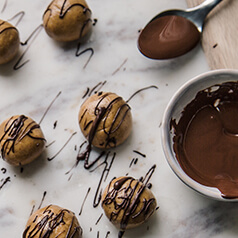 Ingredients
1 cup natural peanut butter (I look for brands who use only peanuts and salt as the ingredients)
¾ cup almond flour
4–5 tablespoons maple syrup (or more as desired)
15 dark chocolate chips (optional)
To Get The Goods
In a bowl, mix the peanut butter, almond flour, and maple syrup until fully combined. You can add the almond flour a bit at a time to gauge the consistency in case you find yourself wanting to use less almond flour (the more almond flour the dryer they will be, but I like the right amount to give it a good texture). Same with the maple syrup – if you want more sweetness, add more than the recipe calls for.
Spoon out a truffle-sized amount of the mixture and roll between the palms of your hand to form a ball, then place on a parchment-lined baking sheet. This recipe makes about 20 truffle-sized balls.
Put in the freezer for an hour or so. Then remove and get your drizzle on. For the chocolate drizzle, melt 10-15 chocolate chips in the microwave. Using a spoon, drizzle the melted chocolate over top. Freeze to harden the chocolate, then enjoy!
Tip: If you're a chocolate lover who is looking for a bit of sweet indulgence, you can roll the balls in the melted chocolate rather than drizzle.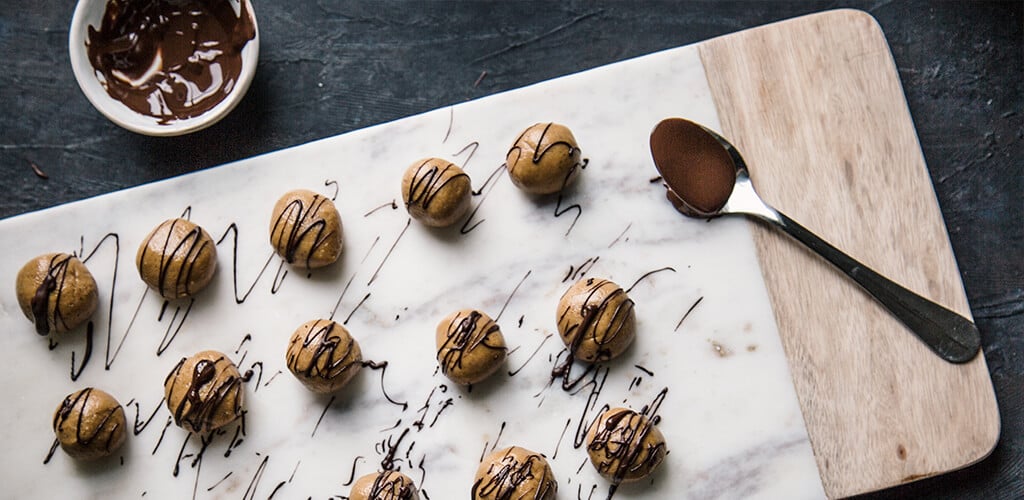 You may also like
Frozen Yogurt Bark Recipe