Summer Recipe: Peanut Butter and Banana Power Popsicles

Looking for a healthier alternative to ice cream? Even healthy sounding frozen yogurt can pack a lot of calories and sugar and, if you're sensitive to sweets, it will just leave you craving more. These simple home-made popsicles are easy to make, tasty, and satisfying. A refreshing frozen treat during the hot summer months!
Peanut Butter and Banana Power Popsicles
Servings: 6 popsicles
Serving size: 1 popsicle
Nutrition per serving:
Calories 75Fat 2 gCarbs 8 gProtein 7 g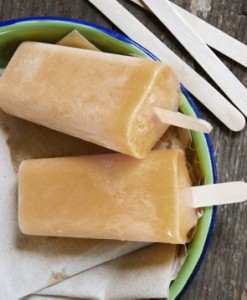 Ingredients
1 medium banana
1 ½ scoops of Bowflex Body Vanilla Protein powder
1 pouch Bowflex Body Peanut Butter Boost
1 cup of unsweetened vanilla almond milk (or milk of your choice)
Dash of cinnamon
Directions
Blend all ingredients in blender, until smooth
Fill popsicle molds* ¾ full, place popsicle handle on top, and freeze.
To eat, run warm water over popsicle containers and lift out.
*Plastic popsicle molds can be found at a variety of retail stores, usually in the kitchen section next to ice tea and water pitchers.