Peanut Butter Avocado Cookies

These Mind Your Body signature cookies are a huge hit with all of my clients, plus they are nutritionally dense. They are also great to carry around in your backpack for a quick healthy snack!
Peanut Butter Avocado Cookies
Servings: 30 cookies
Serving size: 1 cookie
Nutrition per serving:
Calories 81Fat 5 gSodium 35 mgSugars 3 gProtein 3 g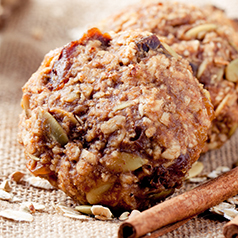 Ingredients
1 Avocado
2 eggs, beaten
1 tablespoon chia seeds
3 tablespoons honey
2/3 cup natural crunchy peanut butter
3/4 cup old-fashioned rolled oats
1 teaspoon cinnamon
1/2 teaspoon baking powder
1/2 cup dark chocolate chips
1/2 cup pistachio nuts, finely chopped
Directions:
Preheat oven to 350 degrees.
Mash avocado in a mixing bowl, then add eggs, chia seeds, and honey. Mix thoroughly.
Stir in peanut butter, oats, cinnamon, baking powder, chocolate chips, and pistachios. Mix until well combined.
Use a spoon to dollop cookies on a baking sheet, slightly press down with the back of the spoon. Bake for 12 minutes. Cool completely on a rack.
Try this recipe next