Pasta Salad Makeover

The typical pasta salad usually includes fiber-lacking white pasta, plenty of cheese and slices of ham or salami, and is drenched in dressing, but pasta salad doesn't have to be notoriously unhealthy. This recipe is elegant enough for a fancy lunch, yet quick enough for weeknight dinners, and is packed with nutritious veggies and whole wheat pasta full of fiber. This versatile side dish sings with the flavors and colors of spring and can be served hot or cold.
Roasted Vegetable Pasta Salad
Servings: 6-8
Serving size: 3/4 cup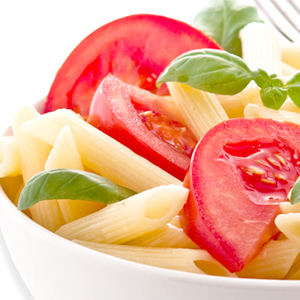 Ingredients:
1 zucchini, thinly sliced
8 mushrooms, thinly sliced
1 red pepper, diced
2 cups whole-wheat penne or fusilli pasta
Salt and Pepper
2 Tbsp grapeseed oil, divided
2 Tbsp lemon juice
½ cup fresh parsley, chopped
Directions:
Preheat oven to 450°. Place vegetables on baking sheet, coated with cooking spray. Cook for 15-20 minutes or until vegetables are lightly browned and tender.
While veggies roast, cook pasta according to directions. Strain pasta and set aside.
Mix cooked veggies with pasta and add oil, lemon juice, and parsley. Salt and pepper to taste.
Serve warm or cold.
Tips and Variations:
Make it a complete meal by adding grilled chicken, shrimp, or garbanzo beans for a filling yet light lunch.
Serve on a bed of chopped romaine lettuce and drizzle with balsamic vinegar.
Use other roasted veggies such as onion, asparagus, and/or yellow squash.