A Sweet Treat For All: Oatmeal Raisin Cookie Recipe

Sweet treats can be hard to navigate when trying to make a lifestyle change. For some, sugar is life, and trying to leave it behind can be one of the hardest parts of the journey. And it can be especially hard if you have a family, making it even more of a challenge to stay on track with your health goals while trying to keep everyone happy, too.
So I wanted to do exactly that, find a treat makes everyone happy – one that eliminates some of the bad while bringing in some of the good, and one that provides options to make the entire family's taste buds dance. I started with a traditional oatmeal raisin cookie and made a few swaps: whole wheat flour instead of white flour and maple syrup and unsweetened apple sauce instead of white sugar and dark brown sugar.
What you get is a subtly sweet but satisfying, soft cookie – a breakfast cookie of sorts. For some, it might be a little less sweet than desired when seeking a cookie (hello, children!), but I've got you covered with an optional maple icing drizzle. This way you can ice a few and leave a few plain, getting the best of both worlds.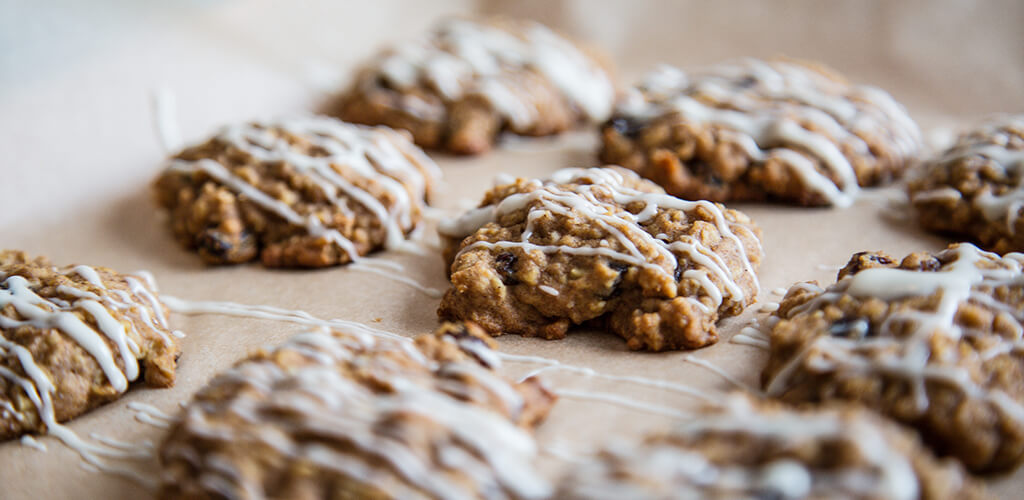 Oatmeal Raisin Cookies
Prep time: 75 minutes
Cook time: 13–16 minutes
Total time: about 1.5 hours
Servings: about 20 cookies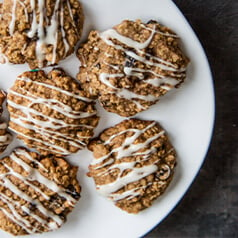 Ingredients
1 egg
½ cup butter (softened at room temperature)
1 ½ cup quick oats
½ tsp baking soda
¾ cup whole wheat flour
½ cup maple syrup
½ - 1 tsp ground cinnamon
¼ tsp salt
¾ cup raisins
½ - 1 teaspoon vanilla
1 cup unsweetened applesauce
For the Maple Icing Drizzle: (optional)
¼ cup powdered sugar
1 ½ tablespoon maple syrup
splash of vanilla
¼ teaspoon milk or cream
Directions
In a standup mixer, cream the butter and egg together, then add the maple syrup.
Slowly add the flour, baking soda, vanilla, cinnamon, salt, and apple sauce, mix until evenly combined.
Remove from standup mixer, then fold in the raisins and oats and mix with a spatula or spoon by hand.
Refrigerate the dough for about an hour. This helps the ingredients hold together and makes it easier to scoop onto the baking sheet.
Using an ice cream scooper or spoon, drop dough onto a greased cookie sheet then gently flatten a bit with the back of a spoon. The dough makes about 20-22 cookies.
Bake at 350° F for 13-16 minutes or until lightly brown on edges or bottom. The cookies will still be soft. If icing, be sure to let them cool completely.
For the drizzle, combine all maple icing ingredients in a bowl. Then use a spoon to drizzle over the cookies. Allow to harden, and enjoy!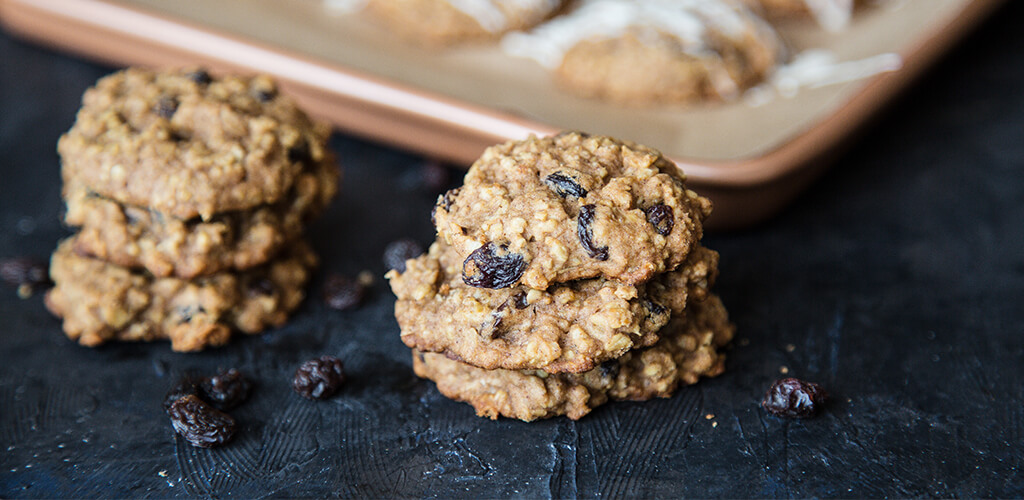 You may also like
The Ultimate Peanut Butter Lovers Recipe