Not So Traditional Iced Tea

During my recent travels to India and other parts of Asia, I delighted in many different cuisines. While each country had its own twist on curry dishes, none of them were shy on spice. Combine the kick of curry with temperatures that easily rose above 100 degrees and I was sweating as if I just came out of a Soul Cycle class — all the time.
One of the most refreshing ways to cool off during the dog days of summer in Southeast Asia was Thai Iced Tea. It's unique color and flavor was always a welcome sweet treat. Because I was not following my strict nutrition regime, I let it slide that I was downing an ungodly amount of sugar and milk with each savory sip. Traditional Thai Tea is made with condensed milk and no matter how badly I wanted to recreate my favorite drink back here in the States, every time I went to purchase a can in the store, one look at the nutrition label and I couldn't bring myself to add it to my cart. I returned it to the shelf every time (I tried no less than three times), determined to create a healthier and lighter alternative. And so I did. Next time you're craving ice cream, give this a try.
Thai Iced Tea
Servings: 2
Nutrition per serving (without milk):
Calories 129Fat 5 gSugars 21 gSodium 0 mgProtein 0 g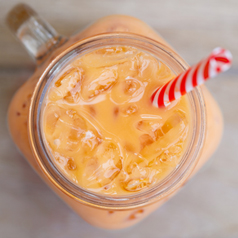 Ingredients
2 tsp. Thai black tea (I recommend this one)
3 tsp. coconut sugar
8 oz. water
6 tbsp. coconut creamer
Liquid Stevia to taste
Milk or milk alternative to taste
Directions
Bring two teaspoons of the loose leaf tea to a boil in 8oz. water.
Turn heat off and let sit for about 3–4 minutes.
Strain tea and stir in sugar.
Divide tea mixture evenly between 2 glasses filled with ice.
Add 3 tbsps of coconut creamer to each glass.
If you like you can top with some milk or dairy free alternative. I love the Coconut Almond blend variety from Califia Farms. Also, if you like a sweeter variation, add a few drops of liquid Stevia. Sit back and sip in the taste of Thailand!
Read this next