Celebrate National "More Herbs, Less Salt" Day!

August 29th is national "More Herbs, Less Salt" Day! The salt shaker is one of the most common ways to add flavor to a meal, but the benefits of cutting back on salt can improve short-term and long-term heart health, reduce fluid retention, and actually increase your taste bud's sensitivity to other flavors. Your food doesn't have to be left bland and unappetizing just because the salt shaker has been retired!
Don't feel like you have to completely eliminate salt from cooking, though. A little salt goes a long way in enhancing and accentuating the flavor of herbs, spices, and other foods. Try adding just a dash of salt during cooking, taking the salt shaker off of the table, and incorporate more herbs into meals for healthier more flavorful food.
Herbs have long been touted for their medicinal uses by civilizations worldwide. Herbs and spices, in combination with a few other staple ingredients like garlic, onion, and citrus juice, not only provide flavor with very few calories, but other benefits too. Herbs are chockfull of antioxidants and have an anti-inflammatory effect, which can mean less pain, disease, and improved circulation, immunity, and digestion.
Dried vs. Fresh
Dried herbs are usually more potent and concentrated, so less dried herbs are needed than fresh herbs, although I personally prefer fresh herbs for certain dishes, like the salad recipe below. Dried herbs can substitute for fresh herbs and vice versa at a 1:3 ratio. If a recipe calls for 1 tablespoon of fresh herbs, 1 teaspoon of dried herbs can be used instead.
Use the guide below to make simple sauces and marinades and say adios to depending on the salt shaker for all of the flavor!
Herb
Liquid
Spices/Other
Goes well with
Rosemary
Lemon
Garlic
Chicken, pork, and fish
Cilantro
Lime
Cumin
Mexican food
Basil
Balsamic vinegar
Salt and pepper
Fresh vegetables;
Especially tomato and cucumber
Dill/Dill weed
Lemon and/or dijon mustard
Onion
Chicken, pork, and vegetables
Caprese Summer Salad
Makes 4 servings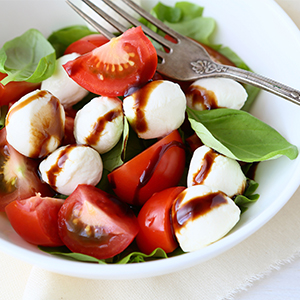 Ingredients
¼ cup freshly chopped basil
1 lb small fresh mozzarella balls, or small cubes of mozzarella
2 cups cherry tomatoes
1 cup cucumber, diced
4 tablespoons balsamic vinegar
¼ cup extra virgin olive oil
Salt & pepper, to taste
Directions
Combine all ingredients in a bowl and mix well. Sprinkle with salt and pepper.
Let marinate in refrigerator for 30 minutes. Serve at room temperature alongside grilled chicken or fish.