Mother's Day Recipe Tomato and Spinach Pie

Whether you're preparing this for a Mother in your life or mother-like figure, this simple veggie-packed frittata-like "pie" is perfect as a late-morning brunch main course served with fruit salad and/or a green salad.
Tomato & Spinach Pie
Prep time: 30 minutes
Cook time: 35 minutes
Total time: 65 minutes
Servings: 4
Serving size: 1/4 of pie
Nutrition per serving:
Calories 165Fat 8 gCarbs 11 gFiber 3 gProtein 12 g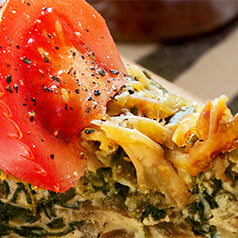 Ingredients
2 cups pre-shredded hash brown potatoes, thawed
1/2 cup skim shredded mozzarella cheese
1 tbsp olive oil
1 cup grape tomatoes, halved
3-4 cups fresh baby spinach
1/2 onion, diced
4 eggs
1/4 cup egg whites
Splash milk
1 tbsp Italian seasoning
Salt and pepper, to taste
Directions:
Preheat oven to 375 degrees. Spray 9-inch pie plate with cooking spray.
Press hash-browns into bottom of pie plate.
Bake for 10 minutes. Meanwhile, heat olive oil in a large skillet or non-stick pan on medium high.
Add tomatoes and onions, cook for 2 minutes; mix in spinach and cook until wilted.
Spread vegetables over hash browns.
Whisk together eggs, egg whites, milk and seasonings. Pour over vegetables.
Top with shredded cheese and bake for 30-35 minutes or until eggs are firm and slightly browned.
Serve warm with salsa and/or avocado slices.
Try this recipe next