MomStrong Recipe: Oats and Banana Breakfast Cookies

This family loves oatmeal and bananas – We eat them several days a week for breakfast, so this sweet on-the-go cookie was a nice change. It only takes minutes and it is the perfect recipe to get the kids in the kitchen to help because it doesn't require cracking eggs, measuring milk or oil. I also pack these in my pack for long runs or have these delicious treats post workout!
Oats and Banana Breakfast Cookies
Servings: 12 cookies
Nutrition per serving:
Calories 50Fat 1 gCarbs 6.5 gFiber 1.2 gSugars 2.5 gProtein < 1 g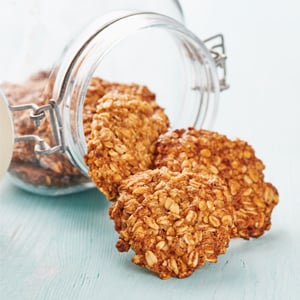 Ingredients
2-3 old bananas
1 cup quick oats
Optional: dash of cinnamon, nuts, chocolate chips, raisins, vanilla, brown sugar, protein powder, flax seed, etc. (I sprinkled protein powder on the top of one for myself and a little brown sugar on top of the kids)
Directions
Measure 1 cup of oats, peel bananas, and mix well. Add in optional ingredients.
Mix well and form into round balls. Use fork and push dough down to form a round flat cookie. Sprinkle protein powder or brown sugar on top. Bake at 350 degrees F for 20 minutes (check cookies to make sure you don't overcook them). Remove cookies from oven and let them cool down before serving.
Read this next