Summer Recipe: Mint Chip Superfood Shake

You Scream, I Scream, we ALL scream for ICE CREAM!!! Some of my fondest memories of childhood are marked by long hauls out to Manning's Dairy Farm near my home in Pennsylvania for a real, homemade, honest to goodness summertime treat. While the scent of farmland was not always enticing, as we got closer to the farm the aroma would waft through open windows, real dairy and homemade fudge was our reward for tolerating the strong odor. There is nothing like the taste of local, homemade ice cream with milk so fresh you could still hear the cows mooing - literally. Now it seems wrong to eat ice cream without this smell.
This locally run business continued to play a huge role in my life as I and several of my best friends went on to work for their store 'in town' dishing out flavors like "E.T" (vanilla with Reese's Pieces - my favorite when drizzled with hot fudge!), Charlie Brownie (chocolate with brownies and peanuts - a close second place in my book), its sister, Snoopy (same only with vanilla ice cream) and Mississippi Mud (coffee with fudge swirl and marshmallow), just to name a few. Endless fun, whip cream fights, and free ice cream pies for all of our friends were pretty much the norm during my high school employment.
Given my rich history with this tasty summertime treat, it's shocking that I opted to relinquish dairy from my diet. I never really regret that decision until I go back home during the summertime. To take a proper trip down memory lane, I take a dairy pill, suck it up and indulge in my first food love. It's the height of taste bud joy and nostalgia all wrapped up into one happy cup. In case you're wondering, I can confirm the sight of slobber on my computer as I type.
In absence of Manning's and in light of my stomach's dairy distress, I have come up with a few ways to enjoy cool treats during the height of heat. While all of it pales in comparison to the smooth, creamy, sweet, delectable taste of pure French Vanilla in hot fudge, my favorite acceptable substitute is a refreshing treat when the thermometer inches to 100° and truth be told, much easier on the midsection. So much so, you can enjoy this recipe several times a week if you so desire. It's a great pre workout rejuvenator. So whip out your blenders and get ready to stir up something sweet in the comfort of your own kitchen, sweet scent of cow optional.
Mint Chip Superfood Shake
A healthy and energizing twist on a popular treat, this is amazing in warm weather and packed with superfood goodness! One of my favorites before a summer workout!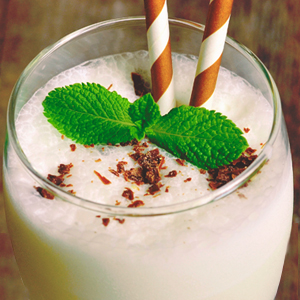 Ingredients:
4 oz. unsweetened Chocolate or Vanilla Almond Milk
2 oz. Chocolate flavored ZICO Coconut Water
1 tsp. Maca Powder
1 tsp. Coconut Butter (not just oil)
1 tsp. Spirulina 8-10 drops Liquid Stevia (You can use packets/powder as well)
1 tbsp of Coconut Syrup, Maple Syrup, Agave Nectar
¼ tsp. mint extract
2 tsp. Cacao Nibs
1 tsp. Almond Butter
4-5 Ice Cubes
Directions:
Place all ingredients in high speed blender.
Start on a lower speed, and as the ice breaks up, increase blender speed.
Top with cacao nibs or fresh mint sprigs for presentation.
This should be an 'ice-y' type consistency, less creamy, which makes it so refreshing! You can also play with the sweetness levels varying the sweeteners you use.