Meal Planning Through COVID-19

Now more than ever, meal planning is essential to limit grocery store outings and using pantry items to stretch your food supply. On top of the logistical benefits, meal planning will save time, money, and energy. Even though for most of us our schedules are simplified drastically with cancellations of everything from weddings and birthday parties to kids' extracurricular activities to church and work meetings, having to juggle work with kids at home is exhausting.
The additional stress of living through the largest pandemic in recent history also takes an immense mental and physical toll, even if you don't think you're "stressed out". This is a major disruption to every aspect of our lives. Our bodies and minds are carrying a hefty load right now, even if we aren't consciously thinking about.
And even though we all have more time at home, having healthy foods prepped and planned for makes eating healthier that much easier. It also lessens the temptation to graze out of boredom or emotional eating.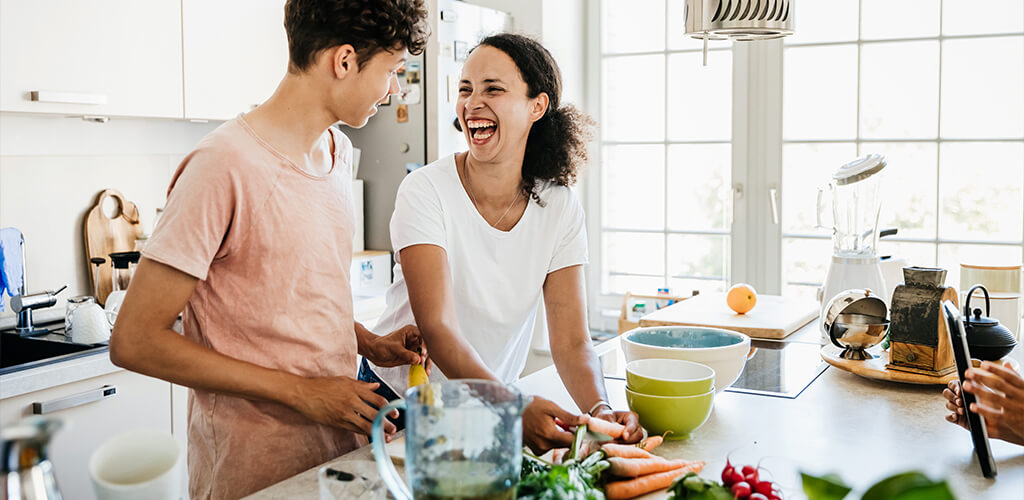 Here are a few simple meals, using foods that have longer shelf lives, are inexpensive, or can be kept frozen until it's time to eat. These three meals are versatile so feel free to add other optional ingredients that you have on hand to mix things up.
Tuna or Salmon Melts with Tomato Soup: Mix tuna or salmon with a small amount of mayo and spread on bread of your choice with a slice of cheese. Heat in pan over medium heat until cheese is melted and bread is lightly toasted. Serve alongside a serving of canned tomato soup.
Loaded Baked Potatoes: Using your choice of potato (sweet, Yukon or Russet) and top with ground beef, black or pinto beans, shredded cheese, salsa, onions and sour cream (or plain Greek yogurt)
Mediterranean Couscous and Chickpea Bowl: Cook a box of couscous according to box and add 1 can of chickpeas/garbanzo beans. Let cool and add diced carrots, cucumbers, red bell pepper, and olives. Add feta cheese and cooked chicken breast, if you desire.
Savory Oatmeal Bowls: Oatmeal's not just for breakfast. Cook ½ cup plain oats and top with an egg, salsa, and green onion for a quick lunch or dinner.
A few general tips:
Buy some extra frozen and canned goods to limit grocery store trips. At my house, we'll be eating a few more canned green beans and frozen mixed vegetables and that is perfectly fine.
Eat fruits and vegetables that have shorter shelf lives first. For example, we eat salad the first few days after grocery shopping along with berries and bananas. I leave things like carrots, broccoli, oranges, and apples for later in the week.
Stay healthy and safe…And give yourself some grace if your diet isn't "perfect" during this time. Focus on nourishing your body and making meal times special with simple things like lighting a candle, eating "picnic style" inside or outside, or bringing out fancier dishes to help add joy to our everyday moments we often rush through and forget to cherish.
You may also like
Quarantine Cooking: White Bean Dip