Low-Carb Pizza Crust: A Swap Worth Making

Who doesn't love pizza? If you're looking for a lower calorie low-carb alternative these two recipes are worth making from scratch. With the average slice of thin crust pizza weighing in around 200 calories depending on toppings and regular crust pizzas containing upwards of 300-500 calories (for a single slice!) with little to no fiber or protein, alternative crusts are worth the effort.
Believe me, I've tried half a dozen recipes using cauliflower and zucchini and was about to give up on finding a homemade pizza crust worth eating, that fits my dietary needs, doesn't involve 10 steps and over an hour to make, and actually holds together like real pizza crust without using a pound of cheese. Here it is, the tried and true, low-carb pizza crust to please your taste-buds and your fitness goals.
I like to top mine with fresh basil, leftover grilled chicken and plenty of veggies. Go light on the sauce to prevent the crust from getting soggy.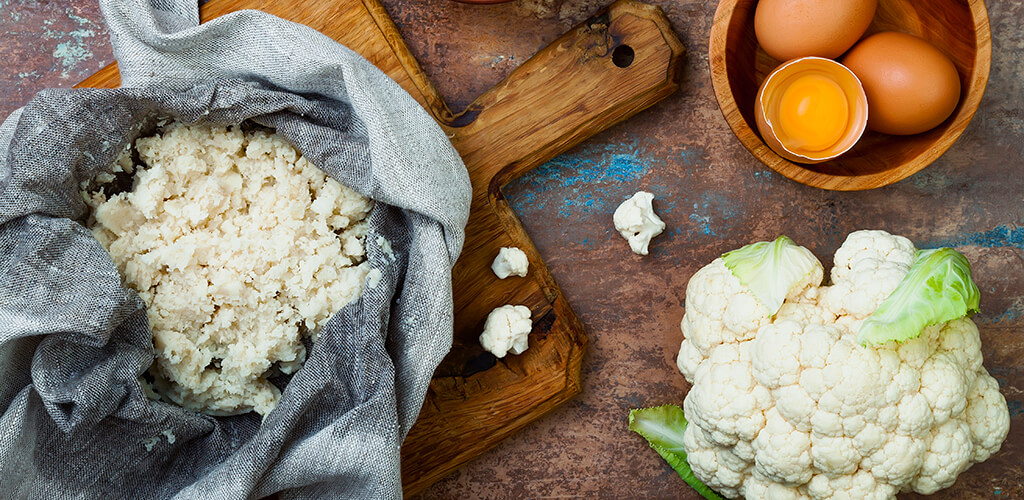 Low-Carb Pizza Crust
Prep time: 15 minutes
Cook time: 55 minutes
Total time: 70 minutes (crust only)
Servings: 4
Serving size: 1 slice
Nutrition per serving (crust only):
Calories 170Fat 10 gCarbs 12 gFiber 6 gProtein 9 g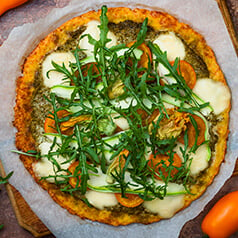 Ingredients
2 bags (12-16oz) of fresh or frozen riced cauliflower (Thaw in fridge the night before)
1 egg or 3 tbsp ground flaxseed meal (to make eggless/vegan)
½ cup almond or hazelnut flour
1 tsp salt
1 tsp garlic powder
1 tsp Italian Seasoning (optional)
¼ cup shredded Parmesan cheese (optional)
Directions
Preheat oven to 400° F. Line a large cookie sheet with parchment paper or a silicone baking mat.
Pour riced cauliflower into a strainer and press excess liquid out of cauliflower.
Place drained cauliflower in large mixing bowl; add remaining ingredients and mix until well combined.
Spread crust onto pan using your hands to make as thin as possible.
Bake for 35-40 minutes; flip and bake for an additional 10-15 minutes (or until crust is dry and firm).
Remove from oven and add toppings of your choice. Return to the oven for 5-10 minutes.
Enjoy!
**Tip: Double the recipe and freeze a plain crust. Cook at 350 for 10-15 minutes straight from the freezer.
You may also like