Losing Weight after Pregnancy: Myths, Facts, and Staying the Course

To fit or not to fit? That was the question on my mind as I pulled on my #IWillWearThis outfit today after weighing and taking my body fat. I envisioned trying to squeeze my pants on, only being able to bring them up to my knees. Do you know the feeling? Hoping for the best but prepared for the worst.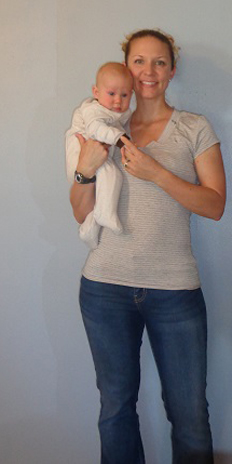 Enjoying my #IWillWearThis
outfit and my little one
After being happily surprised by the number on the scale - finally after 6 weeks of frustration at staying at the same weight despite cutting out ice cream, most nuts, and cheese and increasing exercise! - I was ready for the ultimate test. The result: Hello pre-pregnancy clothes and a body fat percentage within 4% of my intermediate pre-pregnancy goal at 3 months post-partum! (We'll get back to the importance of short-term, intermediate, and long-term goals in a bit.)
Why the sudden drop in weight? And can I continue losing fat while nursing without compromising my milk supply? These facts and myths will answer these questions and more.
Fact #1: Weight loss plateaus are a GOOD thing and to be expected, especially while nursing.
They are a normal part of weight loss for everyone, men and women alike. The body needs to take a break from being in weight loss mode, especially if nursing, and adjust to its new weight. This also gives you an opportunity to continue practicing a solid exercise routine and nutrition plan without having the gratification of seeing physical results. Not an easing thing to do. Plateaus can be as short as a week or two, or as long as a few months. In my case, 6-8 weeks. Stay the course!
Fact #2: Sleep is equally as important as nutrition and fitness in getting and staying fit.
I can't emphasize this enough. This is the biggest factor that has changed for me over the past 2 weeks. My son is now getting one stretch of 7-8 hours of sleep and I'm getting a stretch of 4-5 continuous hours of sleep rather than 1.5-3 hours at a time. The longer duration of sleep works wonders in terms of controlling hunger, and regulating metabolism, not to mention making you feel like a somewhat normal human being instead of a walking zombie.
Myth #1: Nursing helps you lose massive amounts of weight.
Nursing can help you lose weight, but only to a certain extent. And it's different for everyone. It depends on the number of nursing sessions, the age of your baby, and individual metabolism. If you're finding it impossible to drop the last 5-10 lbs, you can thank the hormone prolactin, which is secreted during each nursing session and also functions as a fat storage hormone. It's Mother Nature's way of protecting your milk supply. Even if you're not nursing, the combination of increased stress levels and lack of sleep are working against you in the fat loss department. Let go of being focused on the scale.
Myth #2: Pregnancy changes your body forever. Don't plan on ever getting your post-pregnancy body back.
Yes, you are forever changed by childbirth, but this doesn't mean you can't have a rockin' body (this is defined only by you, by the way, and not by the cover models in magazines). While heredity plays a strong role in body type, metabolism, and stretch marks, with patience and persistence, you can and will have the body and body image you want. It might take longer than you want, but stay focused on your long term goal. Also, projecting a healthy body image is just as important as putting your little one in a car seat, changing their diaper, and feeding them carrots and green beans.
Okay, now that we've got our facts and myths down, this next paragraph is by far the most important point I can convey to you in this entire blog series. If you don't take anything else away, take this:
Post-pregnancy fitness, nutrition, and fat loss are as unique and complex as your little one.
As they change, so too will your fitness routine and nutrition needs. Case in point: I'm eating approximately 2200-2400 calories per day (more than I ate with my daughter, or as a dual-sport collegiate athlete working out 3-5 hours/day 10 years ago!) maintaining my milk supply, and feeling strong and healthy. I'm not counting calories, so it's just an estimate. What am I doing? Listening to my body, keeping "me" a priority, meal planning, eating nourishing food 80% of the time, taking my pre-natal vitamins and a fish oil supplement (absolutely no other supplements while nursing!), and attempting to appreciate the craziness and joy that having two kids under the age of three brings. I hope you can do the same!
Lastly, I invite you to share your post-pregnancy fitness story with us to help other moms become fit mommas! What has worked for you or not?
Bonus Tips:
Have short-term, intermediate, and long-term goals and corresponding rewards.
Celebrate the smaller milestones, like your first post-partum workout, and have goals and incentives along the way to your ultimate goal to keep focused and motivated. For instance, after my first pregnancy I bought a pair of boots that I couldn't wear until I reached a certain goal. This time around fitting into pre-pregnancy clothes was my initial motivation and goal. Next up is running a 2-mile race in under 18 minutes.
Use something other than the scale to measure results and progress, such as body fat percentage, non-stretchy clothes, or circumference measurements.
You can also use fitness markers such as number of workouts per week, length or intensity of workouts, number of minutes on the TreadClimber, miles walked/jogged, or an increase in strength. Or the fact that you're keeping "you" a priority and fitting in exercise while juggling the demands of motherhood!
---
Read all of the Losing Weight after Pregnancy series to learn more healthy ways to lose weight after pregnancy.
---
In case you missed it: