Losing Weight after Pregnancy: How to Start Exercising

Immediate post-pregnancy fitness isn't about specific workouts and exercises and it's definitely not about burning calories. It's about finding activities that fit your schedule, preferences, resources, and is something you can stick with (and maybe even enjoy!). Think about these things very carefully. For example, time is of the essence even more so now than ever before in your life so don't waste your time on activities you enjoy the least. I try to like Yoga, I really do, but I would much rather spend my time on the TreadClimber, pumping my SelectTech Dumbbells, or doing a HIIT workout than finding my breath in downward dog. One caveat: Your plan must include both cardio and strength.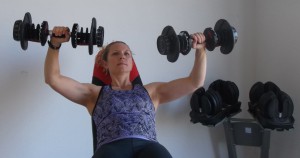 Strength training is just as important as cardio.
I'm providing a few sample workouts and what my weekly workout routine is at 3 months post-partum, but because we all start out at different fitness levels prior to pregnancy, have different birthing experiences which can impact recovery time, and are running on varying amounts of sleep, the best advice I can give you is don't push too hard too soon (sound familiar?) and don't give up! There will be days that a workout just isn't possible or taking a nap is much more important and beneficial. Try to not let those days turn into weeks during the first few months of motherhood and you'll be on the right track.
The first 3-4 months post-partum are more about survival and establishing a routine than getting whipped into shape. That being said, I bet you're reading this blog hoping for a few pointers and advice, so here it is:
Don't compare yourself to where you were before getting pregnant. You have a new body and a new life, whether this is baby #1, #5, or somewhere in between.
Start with low impact exercise - I alternate between my TreadClimber, walking, and recently added the stairclimber. However, this doesn't mean it has to be low-intensity. As your body heals, add in higher impact exercise (running, jumping) if you want.
Include both cardio and strength. No workout plan is complete without both.
Split workouts are just as effective as one longer workout, can be more practical, and gives you a boost of energy two times a day rather than one. Think 10 minutes isn't long enough to fit in a workout? Think again! If 10 minutes is what you have, get moving. Do the following workout for 10 minute increments twice per day:

Do each exercise for 1 minute with no rest in between; rest for 1 minute between round 1 and round 2.
Squats
Push-ups
Lunges
Plank
After 3-4 weeks of exercising consistently (2-4 days per week), add in 10-20 minutes of HIIT or circuit training. Here's one of my favorite workouts that combines strength and cardio:
Do each exercise for 30 seconds with as little rest between each exercise as possible.
Rest for 1-2 minutes between each round and do as many rounds as possible in your allotted timeframe.
Jumping Jacks
Push-ups
Speed Squats
Triceps Dips (at home I use my coffee table)
Jogging in place
Mountain climbers
Pepper steps
Bicycle crunches
To illustrate what your week would look like, here's a sample week:
Day 1: 30 minute walk outside with kiddos
Day 2: 15 minute TreadClimber/Stairclimber + 10 minute strength circuit
Day 3: Rest
Day 4: 30 minute walk outside
Day 5: 20 minute HIIT workout
Day 6: 30 minute walk outside
Day 7: Rest
My last piece of advice is perhaps the most important: If you feel even more fatigued and/or your milk supply drops, back off on the intensity and duration of your workouts. Stick with the frequency though. Note that my workouts above are only 30 minutes at the most and I have two days of no formal exercise ("Rest" day isn't quite accurate for moms of little ones!) to prevent burn-out and having a drop in milk supply.
Bonus Tips:
Schedule your workouts like anything else (doctor's appointments, playdates, or work deadlines) and mark them in your phone or, if you're old school like me, pencil them in a day planner. I highlight a workout once it's complete as a quick visual reminder of what I've accomplished that week (besides keeping my kids alive, bathed, and fed!).
Get outside! The fresh air and sun will do you and baby good to help normalize sleep patterns, fight fatigue, and ward off the post-pregnancy baby blues.
---
Read all of the Losing Weight after Pregnancy series to learn more healthy ways to lose weight after pregnancy.
In case you missed it