Losing to Win: My Biggest Loser Story

My time on "The Biggest Loser" was exciting, and I enjoyed every minute on the show. But people don't have to go on a show to lose weight. All they need to do is stay focused and find the determination inside themselves. Here are the three questions that helped me stay focused:
Why did I get here?

I first had to sit down and figure out what I was doing to gain all this weight. I was not eating right and was not exercising. I was like many Americans across this country who just sat on the couch and did nothing to improve their health. I would always look for the easy way out. Newsflash, America: There is no easy fix. The answer lies in hard work, eating right and exercising.

Where do I want to go?

I had to figure out what I wanted out of this experience, and the answer was easy: Lose weight and get healthy, not just for my family, but for myself. I wanted to be able to play with my boys and not have to take a break every 10 to 20 minutes. I wanted to live a long and healthy life.

How do I get there?

For me, this was also an easy answer: Hard work and full dedication on "The Biggest Loser" ranch, learn as much as I can while I'm there and apply it when I return to the real world. Now that I'm back in the real world, I'm starting to realize that it's twice as hard to maintain as it was to lose. Losing was hard, but easier than maintaining because I was away from the everyday temptations. I've realized that I have to take it one day at a time.
One thing that I have always told myself is to forget about the numbers on the scale. People tend to focus on those numbers more than anything else. Focus on getting healthy, getting to a point where we feel good about ourselves, not just on how we look externally. I know that feeling of wanting to look good. I always wanted to wear a three-piece suit and was never able to — well, at least wear one and look good in it. The truth is that today I feel great, which matters to me more than how I look.
Of course, I still struggle every day with temptations — I don't think that will ever end. But I try and focus on what I have done and what can happen if I fall off the wagon. Try and do something that you enjoy. For example, in the few weeks leading up to the finale, I loved turning on the TV, putting on a recorded episode of "The Biggest Loser" and jumping on my BowFlex® TreadClimber® to work out.
Please remember that when it's all said and done, every one of us is capable of change, and with God on our side, anything is possible. So let's take the next step together and start this new journey because we're worth it. God Bless.
Author Bio: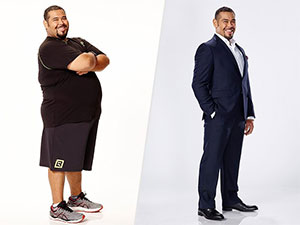 In April 2015, Roberto Hernandez realized that he needed to do something about his weight. Roberto saw his son Jacob playing by himself, and wanted to get up to play with him, but just did not have the energy. From that day on he promised himself that he would do everything in his power to lose weight. At the time, he weighed nearly 370 pounds.
By the time "The Biggest Loser" cast him and his twin brother Luis for the 17th season, he had already lost 32 pounds on his own. Roberto understands the everyday struggle people go through in their daily lives. As a contestant on the show, Roberto's main focus was to become healthy for his family.
Roberto dropped the most weight, a total of 160 pounds, and won the grand prize of $250,000 as he was named "The Biggest Loser" for the season. Roberto is a physical education teacher and educates his students about the importance of a healthy lifestyle every day.
You can follow Roberto's continuing journey through any of the following:
Read this next