Loaded Sweet Potato Recipe

Black beans and sweet potato, both good sources of potassium, seem like an unlikely combo but somehow it works to make a simple fiber-rich meal supplying 50% of your daily potassium needs. Top with salsa and plain Greek yogurt (in place of sour cream) for even more heart healthy potassium.
Loaded Sweet Potato
Prep time: 5 minutes
Cook time: 45 minutes
Total time: 50 minutes
Servings: 1
Serving size: 1
Nutrition per serving:
Calories 450Fat 11 gCarbs 72 gFiber 18 gProtein 18 g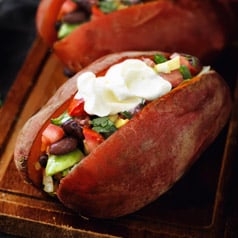 Ingredients
1 baked sweet potato
½ cup black beans
½ medium avocado
Salsa
Plain Greek yogurt
Directions
Heat oven to 400° and pierce sweet potato with a fork 2-3 times.
Bake sweet potato for 45 minutes.
Slice sweet potato in half and top with remaining ingredients.
Try this recipe next
Kale Sweet Potato Hash Recipe