Lacy's Story: Finding the Perfect Workout for a Healthy Life

For Lacy, 31, maintaining a healthy body weight had been a challenge most of her life. After six years of an unsuccessful commitment to working out, mostly running, she had decided working out just wasn't for her. She was in a stalemate with her body image, unsure about next steps. But several years later, after having her second child, Lacy decided she'd had enough - it was time for a change. She dusted off the Bowflex® TreadClimber® she had received a few years earlier as a birthday gift and decided to give the cardio machine another try.
The results were almost immediate. Lacy began losing weight, and inspired by her results, she kept with it. Recreating a fitness routine from scratch was no easy feat, but in just 15 months after recommitting to working out, Lacy had lost 72 pounds.
"I was tired of looking like that. I can't believe how heavy I was," Lacy recalls. "You're so much happier when you like the way you look. That's what keeps me motivated now. I've changed the way I live, the way I work out and the way I eat. The TreadClimber is so easy, all you have to do is walk."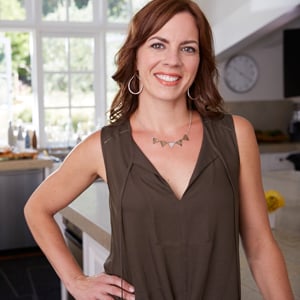 That is what motivated Lacy to carry her healthy habits with her. Today, she continues to live an active and healthy lifestyle – working out at least five times a week. In addition to using her TreadClimber, Lacy also invested in a Bowflex Max Trainer for her home gym, which she uses for quicker, high-intensity workouts.
Lacy's dedication to her health has also been an inspiration to her family and community. Since losing the weight, her husband has even adopted a fitness routine. "My daughters don't remember me being heavy," Lacy said. "They've seen pictures of me when I was heavy and said, 'Who is that?' It's cool that they don't remember me that way."
Lacy hopes those old photos and her own active lifestyle will encourage her daughters to live a healthy life for themselves. What advice does Lacy have for her family and other people just starting out?
"If you want to change your life, you have to start small," Lacy explains. "It's not a quick fix. You can't just take a pill and lose weight. If you're not happy with the way you look and feel, only you can change that. Make a change and stick with it."
See more of Lacy's story in this video:
Read this next