Instant Pot Stew Recipe

In celebration of February being Heart Health Month, here is a hearty one-pot stew that is both satisfying and nourishing. Using lean beef or wild game, adding potassium and fiber packed vegetables and a light broth, this crowd-pleasing stew is both heart-healthy and waistline friendly. One serving of stew provides 30% of your daily potassium needs.
Serve with a side of whole-grain bread and salad or serve by itself.
Instant Pot Stew Recipe
Prep time: 15 minutes
Cook time: 25 minutes
Total time: 40 minutes
Servings: 8
Nutrition per serving:
Calories 270Fat 7 gCarbs 28 gFiber 5 gProtein 25 g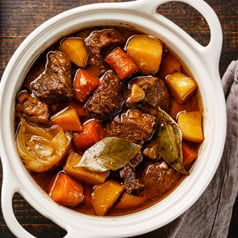 Ingredients
1 ½–2 lbs beef stew meat or wild game
1 teaspoon Italian seasoning
Salt and pepper to taste
1/3 cup whole wheat flour or quinoa flour
1 tbsp. olive oil
1 tbsp. minced garlic
2 tbsp. balsamic vinegar
2 medium Russet potatoes, diced
2 medium sweet potatoes, diced
4 medium carrots, sliced
1 medium onion, diced
3 ribs celery, chopped
1–2 cups fresh or frozen green beans
3 bay leaves
4–6 cups beef broth
2–3 tbsp. arrowroot powder or cornstarch
Directions:
In a large bowl combine flour and seasoning. Add meat and stir until well coated.
Heat sauté pan over medium heat with olive oil. Add meat and sear all sides, stirring frequently, for 4-5 minutes.
Add meat to instant pot; add vegetables to instant pot.
Pour broth over meat and vegetables; add garlic, vinegar, and bay leaves
Close instant pot and press the Manual (high pressure) button. Set the timer for 20 minutes.
Once stew is done and pressure has been released, remove Instant Pot lid and add arrowroot or cornstarch 1 tbsp. at a time (if you desire and thicker broth) and stir until well combined.
Be sure to check out our other recipes for more delicious and healthy meals.
You may also like
Kale Sweet Potato Hash Recipe