Hearty Polenta Lasagna

This hearty meal is perfect for busy weeknights and can be prepped the night before. Packed with hidden veggies, this nutritious one-dish meal is both satisfying and simple. Serve with salad for even more veggies and bread for family members requiring additional calories.
Hearty Polenta Lasagna
Prep time: 20 minutes
Cook time: 35 minutes
Total time: 45 minutes
Servings: 6
Nutrition per serving:
Calories 250Fat 8 gCarbs 31 gFiber 5 gProtein 15 g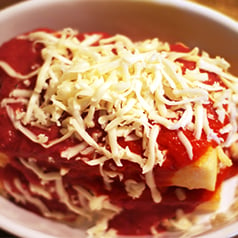 Ingredients
1 (26-ounce) jar marinara sauce, divided
1 teaspoon olive oil
1/2 cup onion, finely chopped
1/2 cup red or green bell pepper, chopped
1 lb lean ground beef or turkey
1 cup mushrooms, finely chopped
2 small zucchini, shredded
2 garlic cloves, minced
2 tsp Italian seasoning
Salt and pepper to taste
1 (16-ounce) tube of polenta, cut into 18 slices
1/2 cup shredded mozzarella or Italian blend cheese
Directions:
Preheat oven to 400°.
Poor 1/2 cup marinara sauce into an 9 x 11 glass baking dish and spread to cover bottom.
Heat oil in a large nonstick skillet over medium-high heat. Add onion and bell pepper; sauté 4 minutes or until tender. Stir in sausage; cook 2 minutes. Add mushrooms, zucchini, garlic, and Italian seasoning; sauté 2 minutes or until mushrooms are tender, stirring frequently.
Add remaining marinara sauce; reduce heat, and simmer 10 minutes.
Arrange 9 polenta slices over marinara in baking dish, and top evenly with the vegetable-meat mixture. Arrange remaining polenta slices on top of vegetable-meat mixture and sprinkle with cheese.
Cover and bake at 400° for 15-20 minutes. Uncover and bake an additional 5 minutes or until bubbly. Let stand 5 minutes before serving.
Try this recipe next