Roasted Sweet Potato & Carrot Salad with Apple Cider Dressing

Mashed potatoes and gravy. Stuffing. Rolls and butter. Green bean casserole. Hungry yet?
Traditional Thanksgiving side dishes are heavy on the simple carbs and saturated fat and lacking in nutrition, color and texture (in my opinion!). When I picture a plateful of the above-mentioned foods, it's a lot of soft, bland-colored mush. Spice things up with one of my favorite recipes. I make it all fall and winter – it's that yummy!
Roasted Sweet Potato & Carrot Salad with Apple Cider Dressing
Servings: 6-8
Nutrition per serving:

Calories 140Fat 8 gCarbs 10 gFiber 2 gProtein 1 g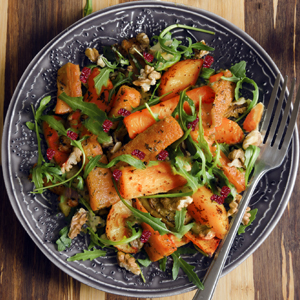 Ingredients
For salad:
1 medium sweet potato, cut into chunks
2 medium carrots, peeled and chunked
1 tablespoon pure maple syrup
1 tablespoon grapeseed or flaxseed oil
Kosher salt and freshly ground black pepper
3 tablespoons dried cranberries
8-10 cups (4oz) mixed salad greens
1/2 cup walnuts halves, toasted (optional)
For dressing:
3/4 cup apple cider or apple juice
2 tablespoons cider vinegar
2 tablespoons minced shallots or onion
2 teaspoons Dijon mustard
¼ cup olive oil
¼ cup water
Directions
For salad:
Preheat the oven to 425 degrees F.
Place the sweet potato and carrots on a cookie sheet, coated with cooking spray. Add 1 tablespoon oil, maple syrup, 1 teaspoon salt and 1/2 teaspoon pepper. Toss to coat.
Roast vegetables for 15 to 20 minutes, turning once, until tender. Add the cranberries to the pan and cook for an additional 5 minutes.
For dressing:
While the veggies are roasting, combine the apple cider, vinegar and shallots in a small saucepan and bring to a boil over medium-high heat.
Cook for 6 to 8 minutes, until the cider is reduced to about ¼ cup. Let cool for 5 minutes.
Whisk in the mustard, ¼ cup olive oil, ¼ cup water, 1 teaspoon salt, and 1/2 teaspoon of pepper.
Place the salad greens in a large bowl and add the roasted veggies and walnuts. Drizzle just enough vinaigrette over the salad to moisten and toss to mix.
Try this recipe next