Healthy Summer Treats: The Ultimate Under 100-Calorie Mocktail

A few nights ago, I went for a run at 7pm. It was still 93 degrees out but I wanted to get in a run, not on a treadmill and not in air-conditioning. We're lucky to have nightly lows dip below 70 degrees so I have come to terms with running when it's still 90+ out (I can't believe I'm saying that!). Afterwards though, I'm parched and I want something refreshing after I initially re-hydrate with cool H20 and I want an option that doesn't undo my health and fitness goals, disrupt my sleep, or my body's recovery process from tough workouts.
I used to grab a 150-200 calorie microbrew, which I still do on occasion, but then I gave mocktails a chance. Boring right? I used to think the only place mocktails had in my diet were during pregnancy. Why else would you drink one? I have since changed my tune and discovered fun refreshing ways to indulge without a ton of extra calories or the after-effects from alcohol.
I'm not a big fan of sweet mixed drinks so these are on the slightly sweet or not at all sweet side. You can easily alter these to have alcohol by adding one shot of vodka, gin, or hard stuff of your choice.
2-minute Mojito Mocktail
Prep time: 2 minutes
Total time: 2 minutes
Servings: 2
Serving size: 1 glass
Nutrition per serving (using sugar):
Calories 45-60Carbs 16.8 gSugars 6.3 g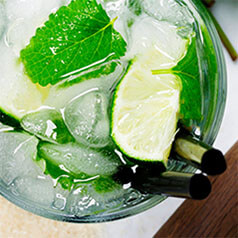 Ingredients
Small bunch of fresh mint
3 Limes, juiced
Soda Water
1 tbsp sugar or agave syrup
Directions
Mix mint leaves with sugar or syrup in a small bowl and gently mash mint leaves with a large spoon.
Place a handful of ice into two glasses; divide the lime juice between the two and pour half of the mint/sugar mix in each glass.
Top with soda water and stir to mix. Enjoy!
Try this recipe next