Healthy Recipe: One-Pan Chicken, Potatoes, and Veggies

With the rush of the new school year underway, and trying to get used to different schedules, use this recipe to fit a home-cooked dinner into everyone's new routines without compromising health, taste, or time. What could be better than only having one pan to wash after a home-cooked meal? Double the recipe to have leftovers later in the week or use for lunches the following day.
One-Pan Chicken, Potatoes, and Veggies
Prep time: 20 minutes
Cook time: 45 minutes
Total time: 65 minutes
Servings: 4
Serving size: 1/4 of total
Nutrition per serving (using two large chicken breasts and greapseed oil):
Calories 380Fat 10 gCarbs 45 gFiber 7 gProtein 28 g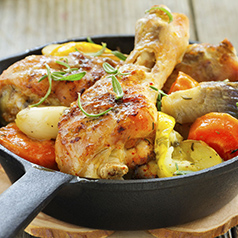 Ingredients
1 large onion, cut into wedges
3 medium carrots, diced or 1 ½ cups baby carrots
4 medium red potatoes, cut into chunks
4 garlic cloves or 2 tbsp minced garlic
2 tbsp grapeseed or coconut oil
1 tsp salt
1 tsp pepper
1 tsp dried rosemary or 1 tbsp fresh rosemary
4 chicken breasts (or 2 large ones cut in half)
1 10 oz bag fresh baby spinach
Directions:
Preheat oven to 475 degrees F.
In large baking or roasting pan, combine the first eight ingredients and toss to coat.
Roast veggies for 25 minutes, stirring once.
Salt and pepper chicken and add to pan. Cook for an additional 15 minutes or until juice from chicken runs clear.
Add spinach to chicken and veggies and cook an additional 5 minutes.
Be sure to check out our other recipes for more delicious and healthy meals.