A Healthy Halloween Party Treat: Individual Baked Apples

Nothing beats ending a chilly fall day with a freshly baked sweet treat! Individual Baked Apples have the flavors of warm apple crisp without the calories! Whether you're planning a Halloween party, weekend get-together, or want a festive weeknight treat without the hassle, these baked apple desserts are simple and delicious!
Individual Baked Apples
Servings: 4
Serving size: ½ apple
Nutrition per serving:
Calories 130Fat 2 gCarbs 25 gFiber 3 gProtein 3 g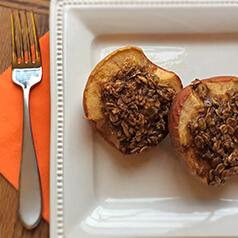 Ingredients
¼ cup + 2 tbsp. old fashioned rolled oats
2 tbsp. packed brown sugar
1 tbsp. whole-wheat flour (or almond flour for gluten-free option)
1 tsp. ground cinnamon
½ tsp. ground nutmeg
pinch of salt
1 large egg, well beaten
2 medium apples (I like Honeycrisp)
Optional: Vanilla Greek yogurt
Directions
Preheat oven to 350 degrees. Spray a cookie sheet or glass baking dish with cooking spray.
In a small bowl, add the dry ingredients (oats through salt). Stir to combine.
Add the beaten egg to the dry ingredients. Stir to combine.
Cut the apples in half, cutting through the core. Cut out the core and make a shallow hole in the apple. Lay the apples in the baking dish, cut side up. Spoon the oat mixture onto the apples and spread out evenly.
Cover the apples with aluminum foil and bake for 25 minutes. Remove the foil and bake for an additional 25 minutes.
Serve warm, or chilled.
Top with a spoonful of vanilla Greek yogurt and sprinkle with cinnamon, if desired.
Try this recipe next