Grilling with Fruit

It's summertime and the grillin' is easy, with meat and veggies that is. Corn, zucchini, onions, mushrooms, and peppers are some favorites at my house. But have you experimented with grilled fruit? This is a great way to enjoy summer fruits, add flavor and variety to skewers, or end a backyard BBQ on a sweet note without breaking the calorie bank. Stone fruits, such as plum, nectarines, apricots, and peaches, work particular well for grilling.
Grilled Stone Fruit
Servings: 6
130 calories per serving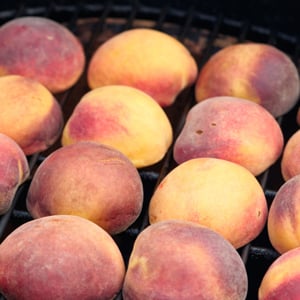 Ingredients:
Dressing
1 tablespoon honey or agave syrup
4 tablespoons white balsamic vinegar
2 tablespoons extra virgin olive oil
3 tablespoons fresh lime juice
2 teaspoons vanilla extract
1/2 teaspoon black pepper
1/4 teaspoon salt
Fruit
3 black plums, halved and pitted
3 apricots, halved and pitted
3 medium peaches, halved and pitted
3 medium nectarines, halved and pitted
Cooking spray
Mint or basil sprigs, optional
Directions:
Prepare grill. Coat with cooking spray.
For dressing, combine first 8 ingredients in a small bowl, whisking to mix well.
For fruit, place fruit on grill rack and grill 3 minutes on each side. Remove from grill. Drizzle with dressing. Garnish with chopped mint or basil, if desired.
Other ideas for grilled fruit:
Use fresh mango chunks on shrimp, pork, or chicken skewers.
Top grilled chicken or lean burgers with a grilled pineapple slice
Grill peaches and nectarines and sprinkle with cinnamon for a quick dessert