Healthy Recipe: Grilled Lemon Rosemary Chicken Thighs

It's grill-time! If you shy away from chicken thighs because boneless skinless chicken breast is the leanest cut of chicken, you have to try this recipe, especially during grilling season! Yes, thigh meat does have slightly more fat and calories, but the flavor and juiciness may change your mind about staying away from it altogether. To reduce the fat and calorie content, trim visible fat off after cooking. The extra fat helps keep it juicy, unlike chicken breast, which is easy to overcook (and dry out) on the grill.
The marinade can also be used for pork or fish. With seafood reduce marinating time to 20-30 minutes.
Grilled Lemon Rosemary Chicken Thighs
Servings: 3
Serving size: 2 chicken thighs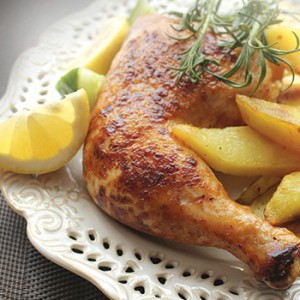 Ingredients
3 tbsp fresh rosemary, chopped
3 cloves of garlic, chopped, or 2 tbsp pre-chopped garlic
1 tbs olive oil
1/4 cup lemon juice
2 tbsp Dijon mustard
2 tbsp honey
6 chicken thighs (about 2-2 1/2 lbs)
Salt and pepper
1/2 medium onion, chopped
Directions:
Mix all ingredients in a glass container and let marinate for 3 hours or overnight.
Grill on medium-high heat, turning occasionally.
Cook until browned, about 20 minutes.
Serve with salad or grilled vegetables and enjoy!
Try this recipe next