Healthy Swaps: Greek Yogurt Onion Dip

Small changes can make a big difference. It's those small changes that create a sustainable lifestyle shift – one that keeps you headed towards your goals rather than yo-yo-ing between diets and the ups and downs of everyday life.
Some of these healthy swaps might feel hard at first – but there's one I can't stress enough: put. the. soda. down. Like most children of the eighties, I grew up on soda. I was an active kid but was a little bit on the heavier side, so I decided to make a couple of small changes – and eliminating soda was at the top of the list. The difference was night and day. I felt lighter, my energy increased, and it made me a better athlete. Seeing the difference one change could make inspired me to keep making more changes, and so my journey towards a healthier lifestyle began.
Here are a couple of small changes you can try to jumpstart your journey.
Fruit-Infused Water and Seltzer instead of Soda
Listen up: Soda is nothing but sugar and empty calories. Sugar is addicting. Quitting is hard. But if you're a soda drinker, this is one swap that will change your life. Trust me. Get started by taking note of how much soda you drink in a day or week, then replace half of that with fruit-infused water or seltzer. With spring and summer on the horizon, it's a great time to buy one of those water bottles or pitchers that allow you to add fresh fruit to the center to infuse the water. Try combinations like lemon and cucumber, strawberry and basil, and mixed berries. Check out Pinterest for more great flavor combinations.
Coconut Milk Instead of Heavy Cream
When making soups or recipes that call for heavy cream, give coconut milk a try. While it's still high in fat, it's a healthier fat packed with more nutrients. It's also an easy way to make a dairy-based soup or meal Whole30 compliant. Give this swap a try by making this Creamy Turmeric Chicken Soup.
Non-Fat Greek Yogurt Instead of Sour Cream
Plain non-fat Greek yogurt is a great swap for many things. When it comes to breakfast, you can ditch sugary cereals and replace with fruit, Greek yogurt, and healthy granola. But it's also a great savory swap, too. If you like sour cream on your baked potatoes, try Greek yogurt instead. If you're a fan of creamy dips like onion dip or spinach dip made with sour cream, try using Greek yogurt instead.
Get started by giving this Greek yogurt caramelized onion dip a try.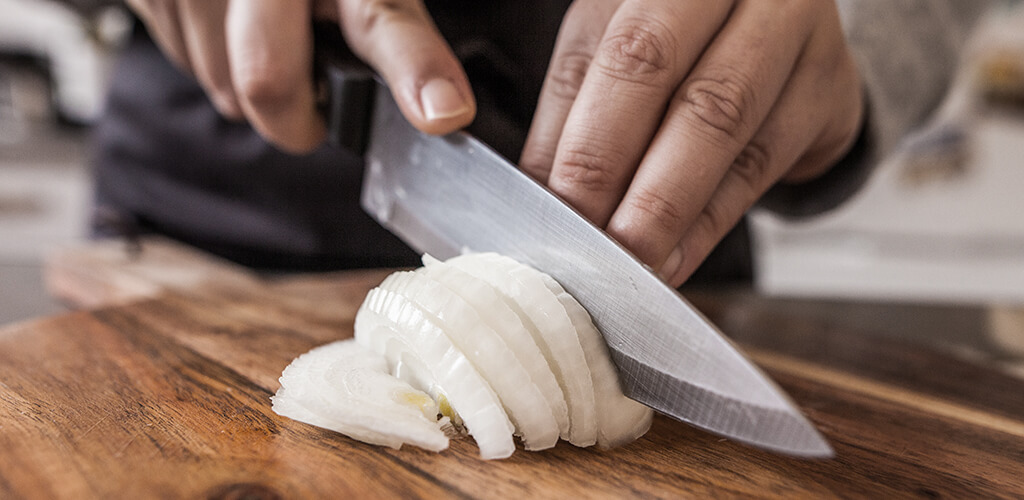 Greek Yogurt Onion Dip
Prep time: 10 minutes
Cook time: 10 minutes
Total time: 20 minutes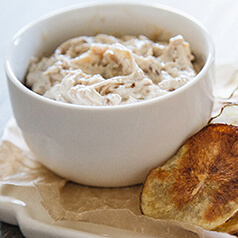 Ingredients
1 cup non-fat Greek yogurt
2 medium yellow onions, sliced thin
1-2 tablespoons butter (or ghee)
2 teaspoon Worcester sauce
1 garlic clove, minced
1 teaspoon coarse salt
½ teaspoon dried thyme
½ teaspoon onion powder
Ground black pepper to taste
Directions
In a hot pan, add the butter. When melted, add the thinly sliced onions and cook slowly until onions are caramelized. Add the salt and thyme while cooking. Towards the end, add one teaspoon of the Worcester sauce and minced garlic. The key to a good flavor is to cook the onions low and slow (high heat will brown them too quickly and you'll miss out on that deep, yummy, caramelized onion taste). Once done, remove and set aside to cool.
In a bowl, add the Greek yogurt, onion powder, and cooled onions and stir thoroughly to combine. Taste and see where your flavor is at. Because of the tanginess of the Greek yogurt, tasting along the way is key to getting the flavor profile you like. Add the ground pepper and remaining teaspoon of Worcester sauce to taste.
Serve with homemade baked potato chips or sliced veggies and enjoy!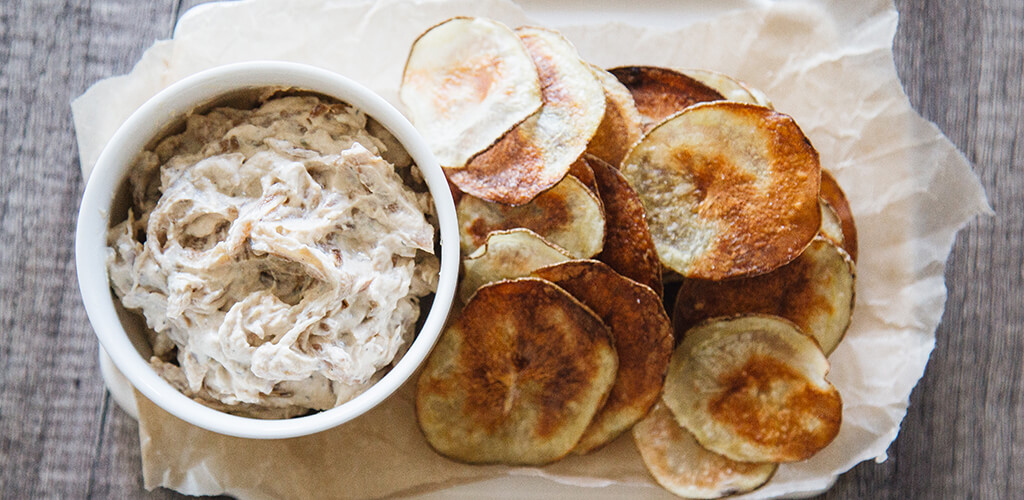 Tip: Love potato chips? For a healthier take, try making your own at home. Thinly slice one russet potato with a mandolin. Toss in olive oil and arrange in a single layer on a baking sheet, sprinkle with salt, and bake at 400 for about 10-15 minutes under a watchful eye.
You may also like
Low-Carb Pizza Crust: A Swap Worth Making