Simple Greek Chicken Marinade Recipe

Let's talk marinades. If you're looking for a treat-yourself moment to break up the food boredom that can come along with healthy eating, a simple marinade can do the trick. It enhances the flavor of your meal while delivering juicy bites of nourishment – and gives you that awesome feeling of "I can't believe I made this!"
The best part? Marinades don't have to be complicated, and most of the time you can pull it off with whatever you have in your pantry. It really comes down to a few things:
A healthy fat like olive oil to release the flavor of your marinade and lock in the juices.
An acid like red wine vinegar, apple cider vinegar, balsamic vinegar, or lemon juice.
Herbs and seasonings to enhance the flavor. Think along the lines of garlic, shallots, oregano, onions, paprika, rosemary, thyme, etc..
A good salt (I like using course salts like sea salt or kosher salt) and ground pepper.
A lot of folks believe you need something sweet in the mix – you'll often find marinade recipes calling for sugar or brown sugar. I don't think you need sugar to bring the party, but sometimes adding a little sweetness delivers a nice browning to the meat. If I'm going to add something sweet, I tend to use maple syrup or raw honey because it feels like a travesty dumping plain 'ol white table sugar on otherwise perfectly delicious food. But, hey, that's just me.
You can use greek yogurt in marinades, too. The lactic acid helps to gently tenderize the meat leaving it juicy without making it mushy (this is why the best fried chicken gets soaked in buttermilk). But before we get sidetracked with dreams of fried chicken, let's get back to this grilled chicken marinade.
Greek Chicken Marinade
Prep time: 70 minutes
Cook time: 15 minutes
Total time: 85 minutes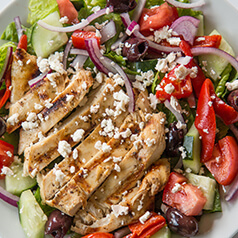 Ingredients
2 lbs chicken breast, pounded to ½-¾ inches thick
Six cloves garlic, minced
One tsp. oregano
One tsp. basil
½ tsp. paprika
One tsp. black pepper
½ cup olive oil
Juice of 1 lemon (about ¼ cup of lemon juice)
½ Tbsp. salt or to taste
Two Tbsp. red wine vinegar
To get the goods
Combine all marinade ingredients and pour over the chicken breast. You can use a shallow baking dish or ziplock bag. I'm a big fan of the ziplock method because it allows you to toss around all the marinade ingredients ensuring even flavor coverage. Marinate in the refrigerator for at least an hour or two.
Once ready, the chicken can be grilled or baked. Serve alongside colorful veggies, or over a salad. For a greek salad, use romaine, tomato, cucumber, red onion, kalamata olives, oil and vinegar, and a sprinkle of crumbled feta. Enjoy.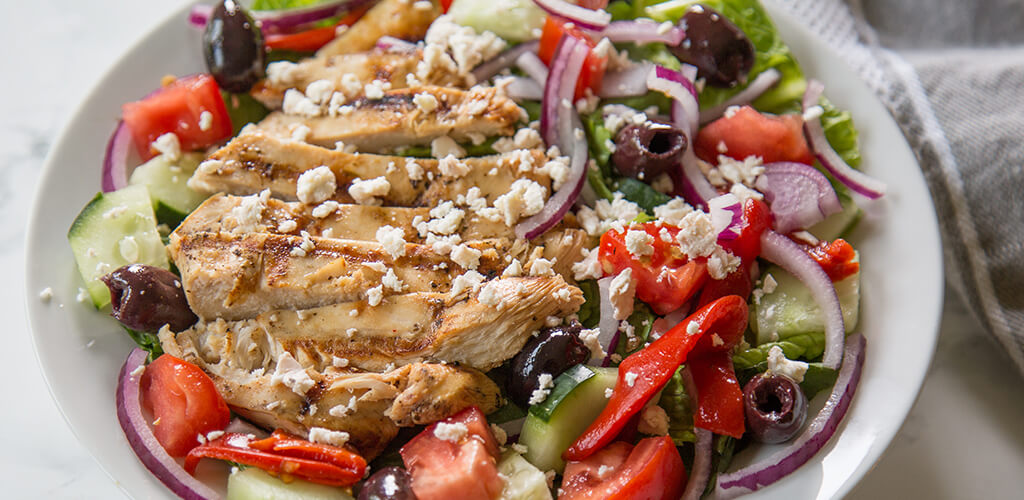 Be sure to check out our other recipes for more delicious and healthy meals.
How about a mocktail with dinner?
How about a mocktail with dinner?Watermelon Mojito Mocktail Recipe