How To Win The Game Day Spread

When I talk about winning the game day spread, I'm not talking about betting lines, point spreads, or pools (although I wish you the best of luck there, too). I'm talking about the spread we all show up for regardless of passion for football: the massive amount of appetizers.
If you've been starting the year strong with an increased focus on health and fitness, the Super Bowl might be your first curveball. But with a few ingredient swap outs and a little creativity, you'll be prepared for game day while keeping your momentum going.
Here's a roundup of Whole30, Paleo, and Keto-friendly appetizers that will allow you to enjoy the game without going offsides. The opposing team (read: the anti-health foodies) will thank you too because all of these are equally (or more) delicious as the usual spread-suspects.
Loaded Sweet Potato Nachos
This is one of my all-time favorite Whole30 recipes. I made these last year for the game because I knew they'd stand up to even the biggest critics – and it was a huge success. The slow-cooker chicken couldn't be easier to make ahead (it's a jar of your favorite healthy salsa poured over chicken thighs) and the avocado-lime drizzle takes the taste to the next level. You won't even miss the cheese, trust me.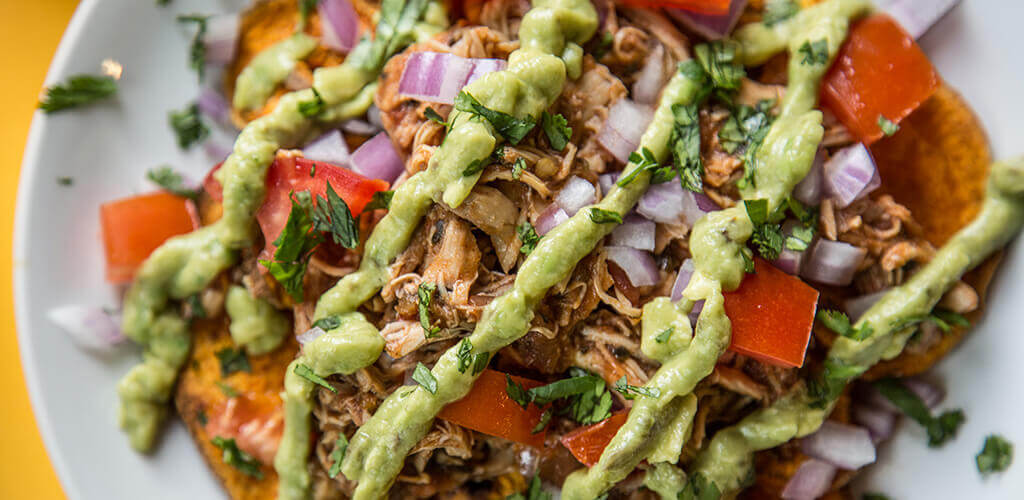 Chorizo & Spinach Stuffed Mushrooms
Chorizo packs a big punch which allows these mushrooms to wow partygoers with only a few ingredients. The recipe even sneaks a few greens in there, but shhh....they won't' even notice.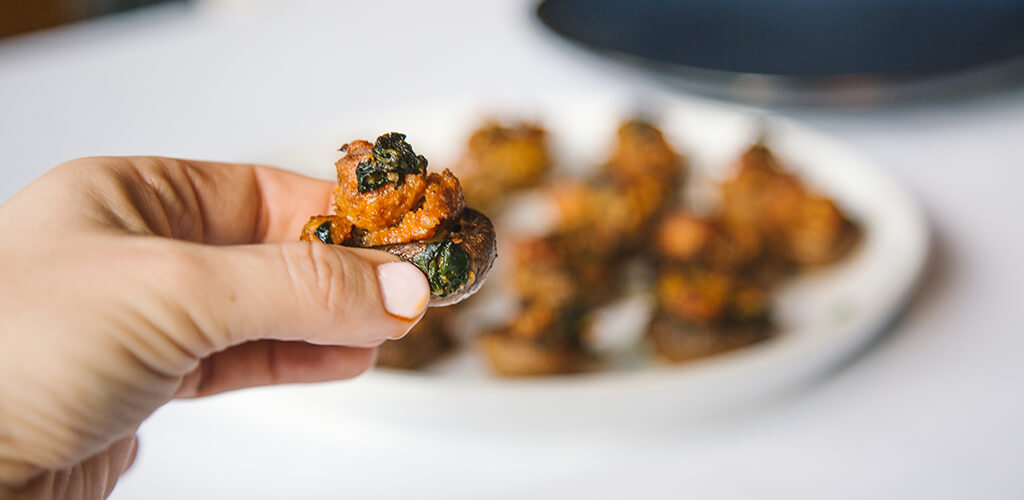 Buffalo Chicken Dip
Guess what? Buffalo chicken doesn't need a bottle of ranch dressing and pounds of cheese to be delicious. It's pretty good on its own. This buffalo chicken dip uses buffalo sauce and chicken as the ingredient heroes (imagine that!), along with a Whole30-friendly mayo to bring the creaminess. We'll give a nod to the beloved ranch by using dry seasonings and spices without dumping in a bottle of dressing.
Whole30 Buffalo Chicken Dip
Prep time: 5 minutes
Cook time: about 35 minutes
Total time: about 40 minutes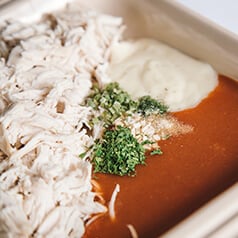 Ingredients
1.5 pounds chicken breast
¾ cup - 1 cup franks red hot (or less if you don't want it too spicy)
¾ cup Whole30-friendly mayonnaise such as Primal Kitchen or homemade
1 tablespoon melted ghee (optional)
½ teaspoon dried minced onion
½ teaspoon dried chives
½ teaspoon dried parsley
Pinch or two of garlic powder
Pinch of dried dill
Fresh parsley and chives (for garnish)
To Get The Goods
Boil chicken in water until cooked, about 10 minutes (be sure to not overcook). Remove and shred using two forks.
Once the chicken is cooled, mix in all of the ingredients to combine evenly. Add to an oven-safe baking dish.
Bake at 350° F for about 25 minutes, until edges begin to brown. Garnish with parsley and fresh chives.
Serve with an assortment of vegetables for dipping and bib lettuce or romaine to make lettuce wraps – enjoy!
Tip: Add the buffalo sauce and mayo in small portions and taste as you go, allowing you to find a taste and texture profile that works for you – some like it spicier, some like it creamier.